Dave Jones '84 Honored as California's 'Legislator of the Year'
January 21, 2006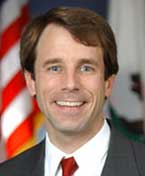 January 21, 2006, Greencastle, Ind. - David E. Jones, who represents California's 9th District in the State Assembly and is a 1984 graduate of DePauw University, is his state's 2005 "Legislator of the Year." Jones, who has been in office for a year, was honored by the Consumer Attorneys of California in recognition of his work as chair of the Assembly Judiciary Committee.
"We salute you and your dedication to protecting the civil justice system as a lawyer, a legislator and a leader in your auspicious first year as chair of the Assembly Judiciary Committee," reads the plaque Jones was awarded. "We applaud your courage and perseverance in standing up for justice for Medi-Cal patients, fair compensation for jurors and fair process in insurance claims."
Dave Jones had several significant legal accomplishments in his first year in the Assembly. He secured $5 million in the 2005-06 budget to establish funding for self-help law centers. He also added funds to the Equal Access Fund for grants to nonprofit legal aid organizations to help meet the legal needs of low-income, elderly and disabled people. He had the most bills signed (and the highest percentage of bills signed) by Governor Arnold Schwarzenegger of any first-year legislator.
In addition to chairing of the Assembly Judiciary Committee, he serves on the Health Committee, Public Employees Retirement and Social Security Committee (PERSS), and the committee on Revenue and Taxation.
Prior to his election to the State Assembly, Jones served as a Sacramento City Council member for five and one half years. Before his election to the City Council, he worked six years as
a legal aid attorney with Legal Services of Northern California, providing free legal assistance to the poor. In 1995 he was one of only 13 Americans awarded the prestigious and competitive White House Fellowship, and he served in the Clinton Administration for three years as counsel to United States Attorney General Janet Reno. He also served as a policy and legal adviser in the California State Assembly. He has served as chair of the Sacramento Regional Transit District and as a member of the Sacramento Metropolitan Cable Commission, Sacramento Regional Sanitation District, Sacramento Solid Waste Authority and Sacramento Transportation Authority.
Visit Dave Jones' official Web site by clicking here.
Back