Sarah (Haberstroh) Stauder '99 Appointed Executive Director of Charles Allis and Villa Terrace Art Museums
January 22, 2006
January 22, 2006, Greencastle, Ind. - "Sarah [Haberstroh] Stauder has been named executive director of the Charles Allis and Villa Terrace art museums, where she was the manager of exhibitions and collections," reports the Milwaukee Journal Sentinel of the DePauw University alumna. "Stauder is a native of Milwaukee and served as an intern at the museums during her time at DePauw University in Greencastle, Ind., where she received her bachelor's degree in art history in 1999," writes Mary Louise Schumacher. "She came on board at the museums as office manager after college and was promoted to oversee exhibitions and collections in 2001."
The article adds, "The 2005 'Forward: A Survey of Wisconsin Art Now,' the first juried, survey of contemporary Wisconsin art held by the museums, was organized by Stauder. The affiliated Charles Allis and Villa Terrace museums, known particularly for their decorative art collections and gardens, are part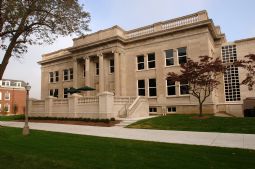 of the Milwaukee County War Memorial Corporation."
Access the item at the Journal Sentinel's Web site (a free registration may be required). Visit the Charles Allis and Villa Terrace art museums online by clicking here.
You'll find a video of Sarah Stauder here.
Back