David Cryer '58 and Other Members of the Broadway Cast Celebrate Phantom of the Opera's 18th Anniversary
January 28, 2006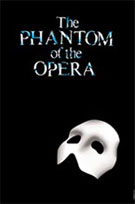 January 28, 2006, Greencastle, Ind. - Phantom of the Opera, which became Broadway's longest-running show January 9, and hit the 7,500-performance mark at the January 21 matinee, turned 18 years old this week. The milestone was reached on January 26. After the performance, the cast, crew and staff celebrated with cake and champagne on the stage of New York City's Majestic Theatre. "The only newcomer to the party... (was) David Cryer, who recently replaced Tim Jerome as Monsieur Firmin. He comes direct from the national tour, which has employed him as the opera manager since it launched 13 years ago." Cryer is a 1958 DePauw University graduate.
Playbill.com notes, "After 18 years, The Cameron
Mackintosh/Really Useful Group, Inc. production of the Phantom of the Opera continues to play to near-capacity audiences in New York and is consistently among Broadway's highest-grossing shows. Its London production is still thriving, as well. On Broadway, since its debut on Jan. 26, 1988, Phantom of the Opera has grossed nearly $600 million, making it the highest-grossing show in Broadway history. Total attendance is at 11 million.
Read more by clicking here, and learn more about David Cryer in this previous story.
Video clips of David Cryer -- who has also appeared in films such as Escape from Alcatraz and American Gigolo -- from a 1996 television news profile can be accessed here and here.
Back