"Verbal Outbursts" are Not News, Prof. Jeff McCall '76 Declares
January 28, 2006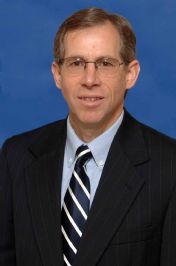 January 28, 2006, Greencastle, Ind. - The media need to give more consideration before airing comments such as Harry Belafonte's recent assertion that President Bush is "the greatest terrorist in the world," and other inflammatory statements by Pat Robertson, asserts Jeffrey M. McCall. A professor of communication at DePauw and 1976 graduate of the University, Dr. McCall discusses the issue in an op-ed published in today's edition of the Indianapolis Star.
"Setting the agenda for national discussion is one of the most important duties of the news industry," McCall declares. "The topics and tone chosen for coverage, collectively, comprise what becomes the conversation of democracy. News editors and producers choose what is 'news' and tell us what information is important enough for our national consideration."
The professor continues, "Considering the recent attention the news media have given to verbal outbursts by entertainer and activist Harry Belafonte, one could conclude that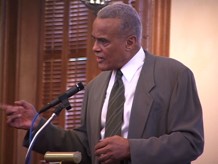 Belafonte's commentary is important to the national dialogue. That would be a misguided conclusion... One must wonder why the news agenda setters consider Belafonte's bizarre statements as 'news.' Are the statements even true? If so, is Belafonte the best source to confirm them? Does he have expertise that particularly qualifies him? Does his previous success as an entertainer give him a special privilege to have his comments distributed nationwide? Are there no other, more rational speakers out there who can provide necessary dissent and scrutiny of the Bush administration, but without the uncivil and divisive tone? In short, is Belafonte a legitimate newsmaker, or a mere sideshow?"
McCall asserts, "This isn't about censorship of Belafonte or inhibiting his free speech. He can speak out and dissent all he wants and with whatever tone he chooses. The concern here is journalistic judgment, and recent poor judgment has highlighted the extreme rhetoric from both sides of the political spectrum. For example, the media give wide
coverage of each strange proclamation from conservative broadcaster and minister Pat Robertson. When the news media choose to highlight the shrill antics of out-there sources like Belafonte and Robertson, they legitimize that style and contribute to an already polarized citizenry. That is not helpful."
A regularly-quoted expert on media matters who has made several appearances on network TV news programs, McCall notes, "Some might argue that it is the media's job to just report everything that happens and that editors should not arbitrarily pick and choose which views get in the news and which don't. In reality, however, journalists are constantly deciding what gets on the agenda and what doesn't. These are conscious decisions that too often use up newspaper space and broadcast time for the outlandish, leaving less space and time for more rational observers who could better lead our national dialogue."
In conclusion, the professor writes: "Legendary journalist Edward R. Murrow once cautioned that a person is no wiser just because his voice reaches 'halfway around the world' as opposed to when it 'reached only to the end of the bar.' Members of the media need to more carefully consider the role they play in deciding which voices are to be heard around the world. For while it is the American way that everybody gets to work his mouth, the news media should not

serve as a promotional vehicle for the voices that should be left at the end of the bar."
Read the complete column, which also appeared in Washington's Spokane Spokesman-Review, at College News.org.
Harry Belafonte presented the Timothy and Sharon Ubben Lecture at DePauw on September 7, 2002. Read his comments, and access video and audio clips and photos, in this previous story.
Source: Indianapolis Star
Back