#5 Women & Men Both Defeat Trinity in Basketball; 18th Straight Win for Women
January 29, 2006
The Winning Shot as Called on WGRE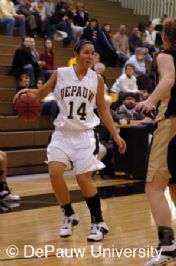 January 29, 2006, Greencastle, Ind. - Kalei Lowes hit a three-point shot from the right baseline with 4.8 seconds left this afternoon, giving DePauw University's women's basketball team a 60-57 win over Southern Collegiate Athletic Conference rival Trinity at the Lilly Center. DePauw entered the contest ranked #5 in NCAA Division III; Trinity was 22nd. With their 18th straight victory, the Tigers improved to 19-1 overall and 9-0 in the SCAC, while Trinity falls to 14-4 overall and 7-2 in the conference.
The men's team also triumphed over Trinity this afternoon, 70-64. Matt McDonald led DePauw with a career-high 19 points.
With the victory, the men improve to 8-11 overall and 4-5 in the SCAC, while Trinity drops to 14-5 overall and 7-2 in the conference.
For comprehensive coverage of today's game, visit the Tiger athletics site. A story on d3hoops.com features the fantastic finish and offers sound from WGRE of the game's final seconds.
Back