WGRE, One of America's Top College Radio Stations, is "A Rarity," Newspaper States
January 30, 2006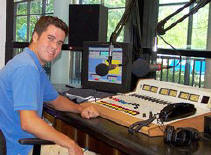 January 30, 2006, Greencastle, Ind. - "When university classes are in session, a live DJ sits behind the microphone 24 hours a day" at DePauw University's student-run WGRE radio, notes the Terre Haute Tribune-Star. "That's a rarity. Most radio stations -- whether college, public or commercial -- carry some sort of automated programming, especially at night. A song request or call about the weather at 4 a.m. lets WGRE know real people are out there listening to real people on the radio." WGRE is one of several college stations profiled in the feature, written by Mark Bennett.
Jeff McCall, WGRE's faculty adviser and professor of communication, tells the newspaper, "We try to be a small-town college radio station." Bennett writes, "Jon Coffin, a senior with a political science major and a minor in mass communications, moderated a Greencastle mayoral debate. And
in 2004, the modern WGRE studios provided one of only two face-to-face meetings between congressional opponents John Hostettler and Jon Jennings. 'That's one of the ways we reach out to the local community,' Coffin says."
Chris Newton, operations director of the station and a 1985 DePauw graduate, says, "They make mistakes that teenagers make. But they don't blow the station up, and they don't have the FCC calling us." Dr. McCall, a 1976 graduate, says the live-warts-and-all presentation sets WGRE apart from mainstream, commercial stations. "That's what people like about us. It's a charm. When we're good, we're really good. And when we're bad, we're really bad."
Bennett notes, "So far, the good seems to outweigh the bad. Last fall, Princeton Review ranked WGRE as the fourth best college radio station in America. Its 800-watt signal carries 30 to 40 miles and seems to appeal to more than just the 2,200 students at DePauw. The music -- WGRE calls it 'college alternative' -- is a prime attraction...
In the WGRE music room filled with old vinyl LPs (yes, the station still has a turntable, just in case) and CDs, Coffin picks up a random mail package, tears it open and finds an album submitted by the band Elephant The Black Magic Show. 'I've never heard of them,' Coffin says. 'But who knows, they might be good.'"
Read the complete story, which includes a color photo of student disc jockeys Erik Lundorf and Chris Tucker, at the newspaper's Web site.
To listen to WGRE live online, click here.
Source: Terre Haute (Ind.) Tribune-Star
Back