As America Mourns the Passing of Coretta Scott King, Vernon Jordan '57 is Cited as One of the Remaining Civil Rights Leaders from the 1960s
January 31, 2006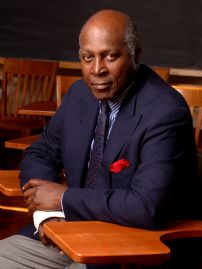 January 31, 2006, Greencastle, Ind. - The Associated Press' coverage of the death of Coretta Scott King lists Vernon E. Jordan among the leaders of the 1960s civil rights movement who are still active. "The only black student in his class at DePauw University in Indiana in the 1950s, Jordan went on to become an attorney in the civil rights movement," the AP notes. "He helped to integrate the University of Georgia in 1961. He later led the United Negro College Fund and the National Urban League."
Access the column, which also lists Jesse Jackson, Julian Bond, Andrew Young and several others, by clicking here.
A 1957 graduate of DePauw University, Vernon Jordan also served as an adviser to Presidents Clinton and Carter. He is senior managing director of Lazard LLC. Jordan, an advisory member of DePauw's Board of Trustees, has twice served as DePauw's commencement speaker, and marked the release of his memoir, Vernon Can Read!, with a speech on October 27, 2001, in
which he spoke of his days as a student in Greencastle (access a story with video and audio clips here). More recently, in the fall Jordan co-chaired DePauw Discourse 2005 and made a presentation on "Civility and Politics."
Read more here.
Mrs. King died last night at the age of 78. Her late husband, the Rev. Martin Luther King Jr., spoke at Gobin Memorial United Methodist Church on the DePauw campus September 5, 1960 (photo at right courtesy of the DePauw Archives). Her son, Martin Luther King III, presented a lecture in Meharry Hall of historic East College on February 28, 2002. You'll find audio and video clips of that address in this previous story.
Back