Former Faculty Member Sally Gray is Greencastle's 'Citizen of the Year'
January 31, 2006
January 31, 2006, Greencastle, Ind. - Sally H. Gray, a retired Putnam County judge who taught economics at DePauw University from 1965 through 1979, is the Greater Greencastle Chamber of Commerce 2005 Citizen of the Year. The Banner-Graphic reports that Gray accepted the award Saturday during the annual Chamber dinner. Her father had received the same award 16 years earlier in the Gray's hometown of Kirkwood, Missouri. '(Husband) Ralph and I went to that ceremony,' Gray said of the evening her father was honored, 'and it was one of the highlights of his life. And now I know how he feels.'"
The judge's husband, Ralph Gray, is professor emeritus of economics at DePauw.
Sally Gray dedicated the award to her parents. "They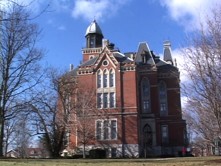 taught me by example to take pride in everything you do and try hard at it." The newspaper notes that Gray was nominated by Jinsie (Scott) Bingham, a 1956 DePauw University graduate who is a fellow volunteer at the Putnam County Museum.
"Gray and husband Ralph joined the DePauw faculty in 1965, and she was former Vice President Dan Quayle's faculty adviser during her tenure," the Banner-Graphic points out. "She later earned her law degree from Indiana University, and was elected to four terms as judge of the Putnam County Court, which later transitioned into Superior Court. And she served an additional eight years as senior judge. She was instrumental in founding the county's drug and alcohol program, served on the Governor's Commission for a Drug-Free Indiana, and served on the National Drug Control Strategy Panel. Most recently, Gray became involved in the Putnam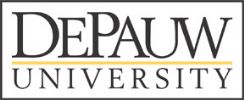 County Museum by forming a coalition of donors and volunteers. In fact, she gave up her judicial career to devote more attention to the museum effort."
Access the complete article at the newspaper's Web site.
On February 26, Sally Gray will be honored at the Putnam County Museum's annual fundraiser, "Roast a Relic." Read more by clicking here. Hear a 1979 sound clip of Sally Gray discussing the "Ethics of American Professional Life" at the DePauw Archives.
Back