Media Owe Their Audiences an Explanation of Sources' Backgrounds, Prof. Jeff McCall '76 Tells FOX's O'Reilly Factor
February 3, 2006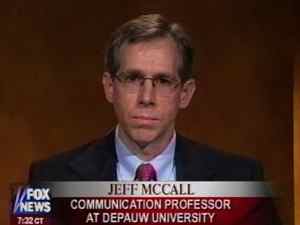 February 3, 2006, Greencastle, Ind. -

[Download Video: "The Media's Responsibility" - 1462kb] "The news media organizations owe the audience the easiest way to understand a source's connection to a story; to give us the context and the circumstances that bring that source closest to the story, and I don't think in the story yesterday in the Globe that necessarily happened," Jeffrey M. McCall, on tonight's edition of FOX News' O'Reilly Factor.
Dr. McCall, professor of communication at DePauw University, discussed the news media's use of questionable sources -- specifically, a Georgetown University law professor who was quoted as an expert in a Boston Globe story on the National Security Agency's program in which it conducts wiretapping of citizens without a warrant.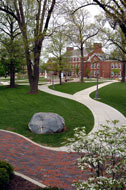 That professor, David Cole, is involved in a lawsuit that is attempting to block the surveillance program, but the Globe did not mention that affiliation. "Although I think it is noteworthy that the Globe provided a clarification today," McCall added.
It amounts to a "truth in advertising issue" for news organizations, McCall told Tony Snow, who was substituting for regular host Bill O'Reilly.

[Download Video: "Truth in Advertising" - 3784kb] It is "fine" to identify David Cole as a Georgetown law professor, the DePauw professor asserts, since "he is a law professor. But when you identify him only as a law professor it suggests he's bringing an academic and legal perspective only to the story, when in reality -- because of some of the initiatives he's been involved in, some of the activism he's been involved in -- he's also bringing a political perspective," the readers and viewers deserve to be made aware of.

[Download Video: "Hustling" - 2408kb] "One

thing that I think the media could well do -- and this takes some hustle -- I think they could work a little harder to expand the range of sources that they use for these kinds of controversial stories," says McCall, a 1976 graduate of DePauw. He believes that news outlets should "not go to the David Coles or the people who sign letters or whatever. You know, there are a lot of really good law schools around the country and a lot of really effective law professors who know something, I'm sure, about this NSA controversy and could comment clearly but who don't
bring some of the political slants or baggage that some of the other professors might."
Tonight's appearance marks Jeff McCall's fifth as a guest on the O'Reilly Factor, which is the highest-rated program on cable television. Twice in one week in October, the professor discussed the journalistic issues that started a feud between host Bill O'Reilly and the Dallas Morning News (access stories and video clips here). On August 1, the professor discussed the New York Times coverage of Edward Klein's book, The Truth About Hillary. In another appearance, McCall discussed the issue of broadcast indecency.
Last weekend, an op-ed by Jeff McCall was published in several newspapers. It examined decisons by news organizations to highlight inflammatory statements. Read more by clicking here.
Source: FOX News Channel
Back