Women, Ranked #5 in USA, Notch 19th Straight Hoops Win; Men Even Conference Record
February 4, 2006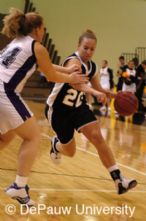 February 4, 2006, Greencastle, Ind. - DePauw University's women's basketball team is the first in Division III to win twenty games after defeating Hendrix College 103-85 in Southern Collegiate Athletic Conference action last night at the Lilly Center. The victory marks the 19th straight for DePauw, which is ranked #5 in the USA, and improves to 20-1 overall and 10-0 in the SCAC. The Warriors dropped to 15-6 overall and 5-5 in the conference.
The men's team evened its conference record last night in a 87-79 triumph over Hendrix. Five DePauw players scored in double figures led
by Stephen Schott with 17 points. The men improve to 9-11 overall and 5-5 in the SCAC, while the Warriors dropped to 10-10 overall and 3-7 in the conference.
Both teams are back in action Sunday afternoon. For comprehensive coverage of Tiger athletics, click here.
Back