Sen. Evan Bayh to Deliver Commencement Address to Class of 2006
February 9, 2006
Also: Pre-Order Your 2006 Commencement DVD Today
February 9, 2006, Greencastle, Ind. - Evan Bayh, the junior United States Senator from Indiana and a potential Democratic presidential candidate in 2008, will deliver the commencement address to DePauw's Class of 2006, the University announced today. The 167th Annual Commencement will take place Sunday, May 21 at 1 p.m. on the lawn of historic East College (weather permitting).
A selection committee composed largely of DePauw seniors chose Senator Bayh. "We're very pleased that the senator has accepted our invitation," says DePauw President Robert G. Bottoms. "His is a respected, national voice on issues that are of concern to every American. I am certain he will deliver a message to our graduating seniors that is both topical and thought-provoking as they embark upon careers or continue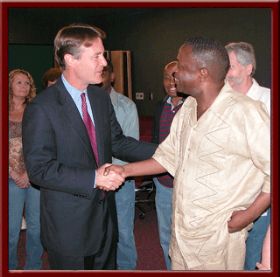 their education in graduate school."
Elected to his second term in November 2004, Senator Bayh has proven he is "more concerned with reflecting what he believes is right for Indiana citizens than with playing to the Beltway crowd," says the Indianapolis Star. His signature legislative efforts seek to strengthen our national security, create more jobs through the growth of small businesses, encourage responsible fatherhood and provide tax-relief for families struggling with the rising costs of college, retirement and the long-term care of a loved one. To help win the war on terror, Bayh has taken the lead in providing our troops with the armored vehicles they need and has visited Baghdad for a firsthand look at the progress on-the-ground. Bayh recently returned from his second trip to Iraq, where concern over Iran emerged as a common thread throughout his visits in the Middle East and prompted him to introduce a resolution to prevent Iran from restarting its nuclear program.
Born in Shirkieville, Indiana, Evan Bayh graduated with honors in business economics from Indiana University in 1978, and received his law degree from the University of Virginia in 1981. After clerking for a federal court judge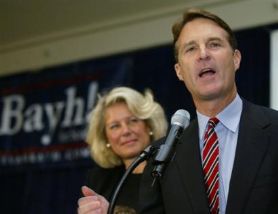 and entering private law practice in Indianapolis, he was elected Indiana's Secretary of State in 1986.
In 1988, Bayh waged a successful campaign for Governor of Indiana, and was re-elected governor in 1992 with the highest percentage of the vote in a statewide election in modern Indiana history.
Bayh was elected to the U.S. Senate in 1998 to the seat that was once held by his father, Birch Bayh. He won with 64% of the vote, the largest victory margin ever by a Democrat in a U.S. Senate race in Indiana. He easily won reelection in 2004, receiving 62% of the vote. He currently serves on five Senate committees: Banking Housing and Urban Affairs, on which he is the ranking member of the Subcommittee on International Trade and Finance; Armed Services; the Select Committee on Intelligence; the Special Committee on Aging; and the Small Business Committee.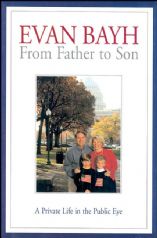 In 2003, Bayh released a biography, From Father to Son: A Private Life in the Public Eye. In it, he describes growing up as the son of Senator Birch Bayh and emphasizes the importance of active, responsible fatherhood. He and his wife Susan are the parents of 10-year-old twin sons, Beau and Nick.
For more information on DePauw's 167th Annual Commencement, click here.
The 2006 commencement committee is composed of seniors Zach Adams, Elise Balzer, Caleb Beasley, Ruben Cardoso Jr., Jenna Dahman, Matt Ehinger, Miriam Grays, Vincent Greer, Griselda Guerrero, Nellie Henderson, Damyanna Mendoza, Dan Price, Ryan Randolph, Robert Schoch, Ashley Sewell, John Stephens, Rebecca Thompson; faculty members Caroline Gilson, Kerry Pannell and Kevin Kinney; and staff member Greg Dillon.
Back