Magazine Calls Poet and 1894 Graduate Max Ehrmann "One of the Greatest Spokesmen of the 20th Century"
February 8, 2006
February 8, 2006, Greencastle, Ind. - "A scholar and a poet, (Max) Ehrmann grew up in Terre Haute, Indiana. He graduated from De Pauw University. He also did graduate work at Harvard," writes Lin Smithwick in Prairie Business magazine. Her column, headlined "Lost in a Closet," describes how she came across a book of poems by Ehrmann while recently cleaning her home and was especially moved by his 1927 work, Desiderata. Ehrmann, an 1894 graduate of DePauw, was "an important poet and writer. Many literary experts consider Ehrmann to be one of the greatest spokesmen of the 20th century," Smithwick asserts.
"After being a lawyer for several years, Ehrmann went to work in his family's business," the column continues. "After 10 years in the business world, Ehrmann retired so he could devote all his time to literary work. Toward the end of his life, during an interview, he told a writer, 'At DePauw, I contracted a disease which I have never shaken off. The disease was Idealism.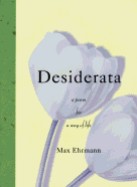 I took it to Harvard with me where I studied philosophy. Because of it I did the thing in life I wanted to do -- writing.'"
Smithwick adds, "During his writing life, Max Ehrmann contributed great thoughts to our literary lexicons, blending the magic of words and wisdom with his worthy observations. His deep and abiding concern over social issues are reflected throughout his many works. Such poems as Complacent Women, written in 1918, and Washington, D.C., written in 1924 about the oil scandals, are certainly as relevant today as they were then. He searched endlessly for spiritual contentment, often turning to nature as in his poem, The Noise of the City and Away. His philosophical writings are a search for social truth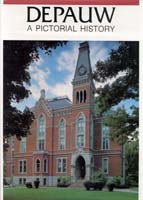 and peace -- messages that never age."
Read the complete article by clicking here. You'll find the poem Desiderata here.
The book, DePauw: A Pictorial History, notes that in 1937, to mark the 100th anniversary of the University's founding, "Poet Max Ehrmann from the class of 1894 composed a Centennial Ode prophesying a 'glorious rebirth' of Alma Mater." The text -- written by emeritus professors of history Clifton Phillips and John Baughman, with assistance from professors Harold Spicer and John Schlotterbeck and Wesley Wilson, coordinator of DePauw University's Archives -- can be accessed online here.
Back