President Bottoms Discusses Globalizing DePauw, Ethics Education, Greek Life and Other Issues in First-Ever Webcast
February 8, 2006
February 8, 2006, Greencastle, Ind. - A new initiative to draw more international students to DePauw University for their college studies was one of the issues President Robert G. Bottoms discussed in DePauw's first-ever webcast tonight. The hour-long, live program was produced at the Eugene S. Pulliam Center for Contemporary Media and featured questions submitted by students and alumni around the nation. The webcast was produced by DePauw's student-run television operation, D3TV, and Ken Owen, director of media relations and 1982 graduate of DePauw, served as moderator. The program was presented with the support and assistance of IHETS (the Indiana Higher Education Telecommunication System).

[Download Video: "A Journey to India" - 2477kb] "In about eight days, Gwen, my wife, and I will travel to India, compliments of Cummins Engine," Dr. Bottoms announced. "Cummins' chairman, as you know, is Tim Solso ('69), who is on our Board of Trustees. He and his staff have worked to set this up. I'll be traveling to various cities in India visiting Cummins plants (and) universities in India,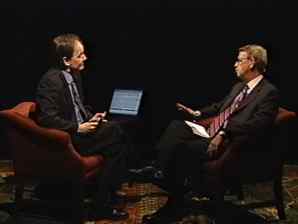 with two goals: to begin to aggressively recruit Indian students to come to DePauw as four-year degree seeking students, and also trying to find internships for DePauw students who might want to have an internship in India."
Bottoms says the University has made great strides to diversify its student body, faculty and staff since he took office 20 years ago; while the numbers of African-American, Latino and Asian students have improved, there is always room to improve, he noted. The internationalization effort is a logical extension of the diversity initiatives he launched in 1986, and will enhance DePauw's national and global reputation, he told the webcast audience.

[Download Video: "Reaching Out in New Ways" - 2958kb] "DePauw University, to my knowledge, has never made an effort to really recruit -- in an aggressive way -- international students to DePauw," Bottoms stated. "If we're able to do that a number of good things happen. First of all, I know there are students around the world who, if they knew about us, would benefit from a DePauw education. I talked to two Indian students this morning who are very well adjusted, enjoying DePauw, are pleased they learned about DePauw -- they did it via the Internet, applied, were accepted. They're here. They're having a good experience. And if we could
increase this presence I think we would benefit international students who would study here and we would benefit our students. We want our students to be very comfortable in the international arena."
The president responded to questions that were sent while the webcast was in progress, and others that were e-mailed by students, parents, faculty members and alumni in advance of the program. Subjects included the recently announced increase in tuition and fees; DePauw's ranking in U.S. News & World Report; fees for off campus study; the renovation and expansion of the Judson and Joyce Green Center for the Performing Arts; and the creation of the Janet Prindle Institute for Ethics.

[Download Audio: "Ethics in the Curriculum" - 643kb] "When you ask yourself the question, 'What institutions are there in place in this country to help pass positive values on from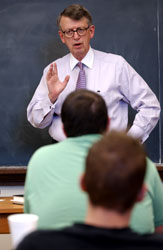 one generation to the other?,' I think the liberal arts college is one institution that has the best opportunity to impact the character development of our students," Dr. Bottoms said. With the Prindle Institute for Ethics, "we would like to be able to raise in many of our classes -- some would call it ethics across the curriculum -- where you don't just have to take a class in ethics or in philosophy to have important questions raised like, 'What things are important to me? What do I want to do with my life?' Fundamental questions. 'What's my responsibility to other people? What's my responsibility to the environment?'"
In an event that was also carried live via student radio station WGRE, the president continued,

[Download Audio: "Ethical Decision Making" - 790kb] "The real purpose of the Institute is to help train faculty across the disciplines to raise these questions in classes, no matter what department they are in." Bottoms says faculty from DePauw and other colleges and universities will benefit from the training and discussion the Ethics Institute provides and engenders. "There's a great deal of discussion going on in higher education now about what we need to do to sort of recover that stress on moral fiber that liberal arts colleges had from the very beginning. When DePauw was first started, the president taught a class on moral philosophy that all the seniors had to take. I don't plan on doing that, but
some of those same concerns that our founders had about stressing the moral implications of behavior and ethical decision-making should still be, it seems to me, at the heart of our institution."
Dr. Bottoms also responded to criticisms that his administration does not support fraternities and sororities.

[Download Video: "Fraternity & Sorority Support" - 3000kb] "I think the leadership in the Greek system -- particularly since we started the Coalition for a Responsible Community -- have no fears that the administration somehow is out to undercut the system." He added,

[Download Video: "More on Greek Life at DePauw" - 526kb] "We don't have any intention of eliminating the system. We're working very hard to make it stronger (and) even more distinctive."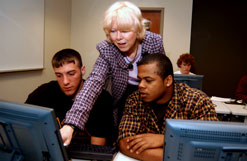 Asked about the relevance of a liberal arts education in the modern era of specialization, Bottoms noted,

[Download Video: "Essential Skills" - 1509kb] "Companies, industries look for people who can reason well, who can communicate well, have good writing skills. Companies can train people with those skills to conform to what the company expects, but those skills are, I think, more essential now than they've been in the past."
The D3TV students who worked behind-the-scenes to produce the webcast are: Kate Manecke (director); Phil Exline (switcher); Teddy Tutson (audio); Melyna Hernandez (chyron); Jenny Morrissey (graphics); Ryan Harper (VTR); Stephanie Duncan (floor director); Audrey Welker and Lexi Beally (cameras); Phillip Taylor and Susanne Kerekes (production assistants). Eric Harvey, video specialist for the Center for Contemporary Media and ITAP, also operated a camera;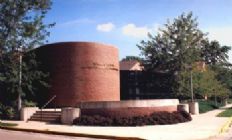 while Larry Abed, director of television operations and instructor in communication, produced the webcast; and Greg Stephan, chief engineer for the Media Center, provided invaluable technical support.
Questions that were not answered tonight because of time limitations will receive individual responses via e-mail.
Back