Band Directed by Nick Parcell '00 to Premiere Prof. Jim Beckel's New Composition
February 18, 2006
February 18, 2006, Greencastle, Ind. - American Journey: A Concert Overture for Band -- a new composition by James Beckel, professor of music (trombone) at DePauw University -- will receive its world premiere April 1 at the Indiana State School Music Association (ISSMA) contest. The piece will be performed by the 8th grade band of Indiana's Greensburg Junior High School, which is conducted by Nick Parcell, a 2000 graduate of the DePauw University School of Music. (at left: Beckel and Parnell rehearse with students this week)
"This past fall I commissioned Professor Beckel to write a piece of music for us," says Parcell, director of bands at the junior high. "We received the piece in January and have been working on it since, and Jim has joined us on several occasions. Commissioning a work is a special experience for me and my students. It gives us the opportunity to work closely with a composer on a piece written to meet our specific needs. When you consider that Professor Beckel is a respected composer who has been commissioned by professional and military ensembles it makes it even more special because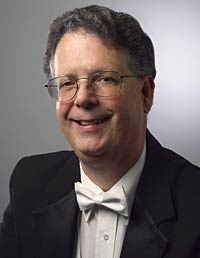 this is his first piece targeted to young bands."
"It has really been fun working wtih Nick on this project," Jim Beckel adds. "To see one of my former students doing so well, making a difference in our public school music program, has in itself been inspirational to me. It has been an honor to write this new work for Nick's junior high band. Hopefully, it will be a fun and exciting work for these young students to perform."
The piece is also the subject of a story in the Greensburg Daily News. "To compose the piece, Parcell chose his college trombone professor Jim Beckel. Beckel has been the principal trombonist with the Indianapolis Symphony since 1969, and is on the music faculty at DePauw University and the University of Indianapolis," writes the newspaper's Jordan Fischer. "Beckel has been an Individual Arts Fellow through the Indiana Arts Commission and the National Endowment for Arts, and recently was one of 50 composers chosen nationwide to be part of the Continental Harmony Project. His piece The Glass Bead Game was nominated for a Pulitzer Prize.
"I enjoy working on music in any level," Prof. Beckel tells the newspaper. "It's important music-wise for the future of our youth, important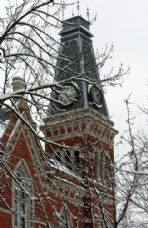 that we keep music moving forward. It's an integral part of our culture that we need to prevent from getting lost. It will be a very dull place if we don't have music."
Read the complete article at the newspaper's Web site.
Jim Beckel's composition, Fantasy after Schubert, was premiered by the Indianapolis Symphony Orchestra in September of 2004, a performance NUVO deemed "a concert to remember." His Liberty for All has become a fixture at Independence Day concerts across America. Read more here.
Visit the DePauw University School of Music online by clicking here.
Back