More Than 15 Artists Featured in 'Skirting the Line: Conceptual Drawing,' at Peeler Center February 15-May 7
February 12, 2006
Also: Religion and Boxing are Themes of 'Vincent Valdez: Stations,' February 1-April 30; Art of DePauw Faculty Members on Display, March 15-April 16
February 12, 2006, Greencastle, Ind. - "Skirting the Line: Conceptual Drawing" -- a group exhibition featuring the work of contemporary artists whose work or practice is informed by the processes and qualities traditionally associated with drawing, yet is equally as driven by conceptual concerns -- opens at DePauw University's Richard E. Peeler Art Center this Wednesday, February 15, 2006. The exhibition, which is free and open to all, will remain on display through May 7. (at left: Holly Zausner, G-Woman, 2000, C-print on aluminum; courtesy of the artist, New York)
Within the history of art, drawing has typically been regarded as simultaneously fundamental and peripheral, essential to artistic practice and the most basic skill an artist can possess, yet subordinate to the more privileged mediums of painting and sculpture. Paradoxically, despite drawing's moniker as "the mother of the arts," and the widely held belief that it serves as the basis for both painting and sculpture, it has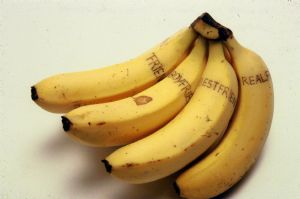 historically been marginalized as a preparatory medium or process, rather than an art form complete in itself.
During the 1960s and 1970s, drawing became analogous to artistic activity -- and essential to the development of Conceptual art -- when artists adopted it as a means of demonstrating process. The act of drawing, or as artist Mel Bochner has notoriously quipped, "drawing as a verb," became a prime site of experimentation and a conceptual device, primarily because of its ability to directly express the artist's decision-making process between thinking and doing. Drawing's proximity to thought naturally aligned it with Conceptual art, where the idea was paramount to the object, and the resulting object -- if there was one -- existed as a document of the artist's thinking. (above right: Tonico Lemos Auad, Desenho em banana (Banana Drawing), 2006 pinpricks on bananas; courtesy of the artist and Galeria Luisa Strina, Sâo Paulo, Brazil)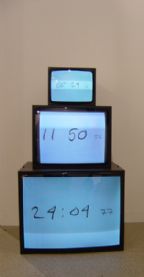 The twenty-first century ushered in a renewed interest in drawing, the re-materialization of the art object, and the return of the artist's hand. Reacting against the ideological, theory-based art of the 1980s and 1990s, artists reengaged with craft by adopting working practices that favored labor-intensive processes and aesthetics over politics. During this time, contemporary artists began to expand the potential of drawing through new techniques and hybrid media and, more than ever before, fully exploited its liminality and multivalent nature by pushing the medium across boundaries to new forms and possibilities. (left: Pablo Vargas Lugo, Reloj (I, II and III), 2002, application for Mac and PC platforms; courtesy of the artist andGalería OMR, Mexico City)
The group of artists represented in "Skirting the Line" adopt these hybridic approaches to drawing -- as both a verb and noun -- utilizing drawing as a fundamental and continuous part of the creative process, and also as their primary conceptual medium. However, they do not favor thought over the manipulation of materials, and don't perceive drawings to be limited only to the arrangement of lines on a page. Instead, they view line as the basis for the investigation of formal and conceptual issues, and use non-traditional media and processes in order to systematically test the conditions, appearance and definitions of drawing. By transposing the qualities and processes of drawing onto a variety of contemporary media -- including installation, film, sound, sculpture, photography, video, and performance -- they create composite works that subvert conventional definitions of drawing by conflating this traditional medium and process with conceptually-driven contemporary art practice. (right: The Center for Land Use Interpretation, Navy Target 103, 2005, digital print; courtesy of The Center for Land Use
Interpretation, Los Angeles)
Participating artists include: Francis Alÿs, The Center for Land Use Interpretation, Clare Churchouse, Marc Dombrosky, Mark Fox, Tonico Lemos Auad, Mark Lombardi, Anthony Luensman, Marco Maggi, Ryan McNamara, Vik Muniz, Danica Phelps, Type A, Georgina Valverde, Pablo Vargas Lugo and Holly Zausner.
"Skirting the Line: Conceptual Drawing" was curated by Kaytie Johnson, DePauw's Director and Curator of University Galleries, Museums and Collections.
You're invited to attend several "Art for Lunch" gallery talks that will be presented in association with this exhibition:
March 9, 12:30 p.m. - "Paper Trail: Documenting and Cataloging Incidences," Christopher Lynn, assistant curator of the Peeler Art Center.
March 16, 12:30 p.m. - "Connecting Medieval and Modern Conceptual Art," Anne Harris, associate professor of art
March 23, 12:30 p.m. - "A Noticed Moment: Chance, Truth and Coincidence in Contemporary Art," Lori Miles, assistant professor of art
April 6, 12:30 p.m. - "Drawing a Bead on Contemporary Art," Michael MacKenzie, assistant professor of art

The galleries at the Richard E. Peeler Art Center are open Monday through Friday from 9 a.m. to 4 p.m.; Saturday 10 a.m.-4 p.m.; and Sunday 1-5 p.m. Please call the gallery information line at (765) 658.4822 or visit the Peeler Center's Web site for more information.
Back