"World-Class" DePauw's "Interesting Initiative" Spotlighted on Inside Indiana Business -- See Clips Here
February 13, 2006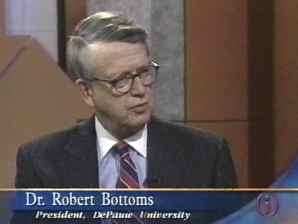 February 13, 2006, Greencastle, Ind. -

[Download Video: "Dr. Bottoms is Welcomed" - 2253kb] "This is an interesting initiative," Inside Indiana Business host Gerry Dick said as he welcomed DePauw President Robert G. Bottoms to the statewide television program. Dr. Bottoms discussed the trip he will make to India this weekend in hopes of increasing the number of international students at the Greencastle campus. "DePauw (is) certainly a world-class University with a great reputation, now looking internationally to strengthen things," Dick added as he welcomed the president to the show.
"During the twenty years I've been president, we've had a strong emphasis on diversity," Bottoms explained. "We have previously defined it as increasing the number of African-Americans, Hispanics, Latinos, Asian students primarily from this country. We've always had some international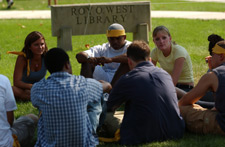 students," the president added as he stressed this will be "an organized recruitment effort."
Tim Solso, chairman and chief executive of Cummins Inc. and 1969 graduate of DePauw University, is making the trip possible.

[Download Video: "The Cummins Connection" - 2629kb] "Tim is one of our trustees," Bottoms said on the program which is seen on 11 television stations. We were chatting last summer, and I said, 'Have you read The World is Flat?' -- this is sort of behind some of our thinking about pushing (this initiative) and maybe selecting India as a country that we would target. He said, 'Well, you know, we have 5,000
employees in India.' And so Cummins has arranged a trip for Gwen and me, we leave next Saturday. We'll be visiting several cities and a number of universities, having a chance to expose DePauw University to the children of Cummins employees and also seeking, perhaps, to set up some internships for our students in India."
Bottoms reminded viewers that

[Download Video: "Advantages to Indiana" - 2298kb] "we have a very large internship program," and that many Indiana companies benefit from the contributions DePauw students make. "I talked to two students (from India the) day before yesterday, both of whom are excellent students. They've adjusted well to DePauw; they love it. One student naturally would like to go back to India when he graduates; the other would like to go to graduate school and stay in this country. If he has an internship in Indiana while he's at DePauw the likelihood of helping this state through our program is significant."
In closing, Gerry Dick noted that DePauw is
enjoying a record year for applications and that things are going well at the University.

[Download Video: "Building on DePauw's Successes" - 1821kb] "We think this program would be very attractive to prospective students, I think," Bottoms said of the international initiative. "Students from Indiana would like to attend a school where there's an international presence because people are aware of the economic realities today."
Dr. Bottoms also discussed his upcoming trip and his drive to attract more international students to DePauw last Wednesday, February 8, in the first-ever presidential webcast. Read more in this previous story, and access an archived video of the one-hour program here.
Back