"Inspired and Inspiring" Pediatrician Johari Miller '94 Featured in Newspaper Article
February 13, 2006
February 13, 2006, Greencastle, Ind. - "Dr. Johari Miller lives her life with passion," begins a feature article in today's Journal and Courier of Lafayette, Indiana. Miller, a pediatrician at Lafayette's Arnett Clinic and 1994 graduate of DePauw University, is "all about children, service and action," Kevin Cullen writes. Dr. Miller "is 34, unmarried, African-American and genuinely upbeat. She keeps a little bottle of liquid soap with her, because blowing bubbles makes little kids giggle. 'I love my job. I'm constantly laughing and smiling and playing with kids. What more could a grownup ask for?' Miller says, sitting in her office decorated with crayon drawings by Isaiah, Destynee, Emma and Breanna."
The story continues, "Miller, who joined Arnett in 2001, is immersed in community activities. She is school physician for the Lafayette School Corp., a member of the Lafayette Police Department Merit Commission and on the Minority Health Coalition advisory board. She was part of a medical mission to Haiti in 2003, and she's a 'Big Sister' to an 11-year-old through the Big Brothers-Big Sisters program... (She also) provides in-service training to school nurses, discusses health topics and helps lead the Greater Lafayette School Wellness Council, which is developing health goals for schools throughout the county... Miller is former treasurer of Bethel AME Church, and she served on a
YWCA's 'Salute to Women' committee the past two years. Last fall, she graduated from 'Leadership Lafayette,' a leadership development program."
"As a Christian, I believe it is necessary to give service to others," Johari Miller, tells the newspaper. "You need to love your neighbor as yourself." She adds, "The most important things in my life are the people who love me, and that I love back."
"She is a very approachable, sincere, humble person. She's a friend," says Thometra Foster, executive director of the Minority Health Coalition. Christy Smith, director of Leadership Lafayette, adds, "Johari is an excellent role model and a passionate community volunteer and leader."
Cullen writes, "At 5, the former Indianapolis resident decided that she wanted to be either a doctor or a movie star. 'Since I have no talent, I had to be a doctor,' Miller
says with a laugh. She graduated from DePauw University and the Indiana University School of Medicine... She interned with a pediatrician while a sophomore in college. It changed her life. 'I saw how wonderful and fun it can be,' she says. 'Kids deserve so much more than we sometimes give them. I wish things were more equitable.'" (photo at left: courtesy Journal and Courier, Lafayette, Indiana)
"She's inspired and inspiring," says pediatrician Dr. James Bien, Arnett Clinic's chief medical officer, says of Dr. Miller. "I think she's a great example to her colleagues within the community on how you can be involved, in addition to your professional commitments. She sees her role as one of service."
Miller, who was a chemistry major at DePauw, declares, "When you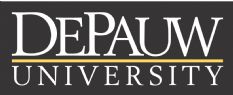 give a part of yourself, there is a reward that you can't get otherwise... We play the part of role model in every role we are in. It's important for all of us to put our best foot forward. That gets you into tomorrow."
Access the complete story, which includes the photo seen above of Dr. Miller interacting with one of her young patients, at the newspaper's Web site.
Back