Dr. Denise Hayes Contributes to Article in Journal of College Student Psychotherapy
February 14, 2006
February 14, 2006, Greencastle, Ind. - Denise Hayes, director of counseling and health services and associate dean of student academic support services at DePauw University, contributes to an article published in the Journal of College Student Psychotherapy. Co-authored with colleagues from Cornell University, the University of Illinois and the University of St. Thomas, the article is entitled, "Enjoying the Roller Coaster Ride: Directors' Perspectives on Fostering Morale in University Counseling Centers." It is based on a presentation the authors made to the Association of University and College Counseling Center Directors at its annual conference in October 2004.
An abstract states: "The demand for mental health services in higher education settings continues to increase and places more pressure on staff, highlighting further the importance of good staff morale in these agencies. This task of bolstering staff morale is often placed primarily on the shoulders of counseling center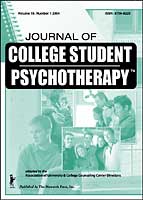 directors. The present article outlines several counseling center directors' perspectives on staff morale, management principles, and the assessment of colleagues' needs and motivations. The article will describe a working atmosphere that is conducive to high morale and will examine ways directors can learn 'to manage from the soul.'"
Read more by clicking here.
Learn more about Dr. Hayes here.
Back