Two Distinguished Individuals to Receive Honorary Degrees at May's Commencement
March 22, 2006
Also: Sen. Evan Bayh to Deliver Commencement Address to Class of 2006; Pre-Order Your 2006 Commencement DVD Today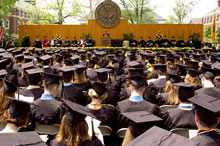 March 22, 2006, Greencastle, Ind. - DePauw University will celebrate the accomplishments of two distinguished individuals -- Judge George H. Aldrich '54 and United States Senator Evan Bayh -- by awarding them with honorary degrees at the 167th Commencement. The recipients will be honored as part of the ceremonies Sunday, May 21 at 1 p.m. on the lawn of historic East College (weather permitting).
George H. Aldrich, a 1954 graduate of DePauw, is a judge for the Iran-United States Claims Tribunal in The Hague, Netherlands. His distinguished career has included working with Secretary of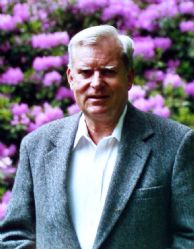 State Henry Kissinger in negotiating the peace agreement in North Vietnam, drafting protocols to the Geneva Convention on the Laws of War in 1974, and serving as a U.S. Representative at the United Nations' Law of the Sea Conferences from 1977 to 1981.
Judge Aldrich, who will receive an honorary Doctor of Laws degree, graduated with distinction from DePauw where he majored in history and was a Rector Scholar. He holds a Master of Law degree from the Harvard Law School.
In 1980, President Carter gave Aldrich the rank of Distinguished Senior Executive, the first State Department official so honored. He is a member of the Council on Foreign Relations, the American Society of International Law, and the International Institute for Humanitarian Law.
As previously announced, Indiana's junior U.S. Senator, Evan Bayh, will be providing the commencement address to DePauw's Class of 2006 and will also receive an honorary Doctor of Public Service degree. Bayh is the former Governor of Indiana and is examining a potential run for the Democratic presidential nomination in 2008. Read more about him by clicking here.
For more information on DePauw's 167th Annual Commencement, click here.
Back