Two New Liberal TV Shows "Enrich the Debate," Prof. Ken Bode Tells New York Times
February 18, 2006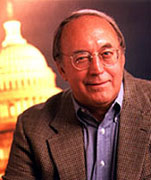 February 18, 2006, Greencastle, Ind. - "Ken Bode, a veteran television journalist and a visiting professor of journalism at DePauw University in Greencastle, Ind., said he saw nothing wrong with the two organizations deciding to help themselves actively to the airwaves," writes Felicia R. Lee in today's New York Times. Bode, Eugene S. Pulliam Distinguished Visiting Professor of Journalism, is quoted in a story that examines two new television series' that focus on the Sierra Club and the American Civil Liberties Union. "The two liberal groups see this as only the beginning of more such shows to get their messages out," Lee writes.
The appearance of the new shows "speaks to the fact that there is a vacuum of serious journalism about the complicated issues the Sierra Club is interested in and the A.C.L.U. is interested in," Bode is quoted in the Times article. "Any time you have any organization putting responsible opinions before the public, I think it enriches the debate, rather than diminishes it.
Anyone who takes the time to watch a program like that, they know the views of the A.C.L.U. or the Sierra Club."
Read the complete text, headlined "Two New TV Series Are Liberal and Proud," at the newspaper's Web site.
Access Ken Bode's most recent op-ed, published in yesterday's Indianapolis Star, by clicking here.
Source: New York Times
Back