DePauw Mentioned Several Times on Statewide TV Program
February 20, 2006
February 20, 2006, Greencastle, Ind. - "This weekend, DePauw President Robert Bottoms will depart for India on a mission to attract more international students to the Greencastle campus," noted Gerry Dick on Inside Indiana Business. In the program, which aired statewide on 11 television stations over the weekend, the host continued, "This is the first organized effort from the school to bring in more foreign students, with hopes the students will take internships with Indiana companies and finally remain here after graduation. The initiative is a partnership with Cummins, which employs 5,000 workers in India."
It marks the second consecutive week that DePauw's international outreach has been reported on the program. The previous weekend, DePauw President Robert G. Bottoms was interviewed by Gerry Dick. A summary and video clips can be accessed by clicking here.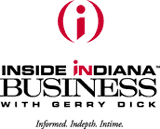 This past weekend's show also featured an interview with Cummins CEO Tim Solso, a 1969 DePauw graduate and member of the University's Board of Trustees; as well as a talk with Laura Small, president of DyKnow, whose software allows students and teachers to share written information during class. The technology is an extension of the work of David Berque, professor of computer science at DePauw. "He wanted to move beyond just the presentation approach, or the traditional lecture, and encourage his students to interact more with the material and with him.
Video clips of the interviews with Tim Solso and Laura Small can be found at Inside Indiana Business' Web site.
Source: Inside Indiana Business
Back