Pre-Order Your 2006 Commencement DVD Today
February 28, 2006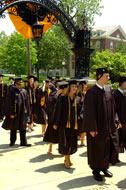 February 28, 2006, Greencastle, Ind. - DePauw University's annual commencement ceremony will again be made available to graduates and their families on DVD this spring. The four-camera production -- which includes video of each graduate receiving his or her diploma on camera -- will be produced by DePauw with the discs professionally replicated by Sony Digital Disc Manufacturing. The discs are available for $25 for the first copy, and $10 for each additional copy being sent to the same address. You can access an online order page by clicking here.
DePauw's 167th annual commencement ceremony will take place Sunday,
May 21, and will feature a speech by Evan Bayh (seen at right), Indiana's junior United States Senator and a potential candidate for the Democratic presidential nomination in 2008 (read more here).
"DePauw was among the first colleges in the nation to offer a commencement DVD, and we're delighted to announce that we'll be producing a disc for a fifth consecutive year," says Ken Owen, director of media relations and a 1982 graduate of DePauw. "The DVDs have proven to be wonderful keepsakes for graduates and their families, and DePauw's price point is among the lowest
in the nation. Some other colleges and universities charge as much as $75 per disc -- including large state schools -- and I think it's terrific that a small university can provide this high quality product at an affordable price."
As in past years, the DVD's menu will allow you to quickly access the spot in the program you want to see. If you're looking for a graduate whose last name is Kelly, for instance, you click on the letter 'K' in the menu, you're immediately taken to the first person whose last name begins with the letter 'K' receiving his or her diploma. Users can also jump to specific speeches, or watch the program from beginning to end. DVDs, which are much more durable than video cassettes and offer significantly better picture quality, should provide a lifetime of enjoyment.
The commencement platter will mark the tenth DVD that DePauw has produced -- the 2001, 2002, 2003 & 2004 commencements and the last five Monon Bell Classics also received the digital treatment. The discs are mastered by Owen and professionally replicated in limited quantities by Sony. Read more about the Monon Bell discs and access an online order form by clicking here.
For more information on DePauw's 167th Annual Commencement, click here.
Back