DePauw to Host National Conference of Council on Undergraduate Research, June 24-27
March 6, 2006
March 6, 2006, Greencastle, Ind. - DePauw University will host the 2006 national conference of the Council on Undergraduate Research (CUR), June 24-27. "Learning through Research: Dynamic Faculty, Students and Institutions" will bring together faculty, administrators, policy makers, representatives of funding agencies and other stakeholders with an interest in doing and promoting undergraduate research. The conference will include more than 100 workshops, presentations by representatives of funding agencies, divisional sessions, and social interactions.
"For me personally, this conference was like a lifeline in my early years as a faculty member," says Bridget L. Gourley, professor of chemistry and biochemistry at DePauw and the conference's host site chair. "It was so helpful to get out and interact with faculty dealing with the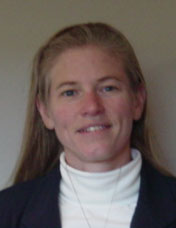 same issues issues I was, knowing that my best teaching was while doing research with students, yet knowing it was critical to do a great job in the more traditional classroom and laboratory and meet the perceived high service expectation. Realizing that certain things happened everywhere helped my perspective a great deal. I've always returned from this conference energized with new ideas and insights."
Dr. Gourley (seen at right), who also directs DePauw's Science Research Fellows Program, adds, "For faculty members in general, this conference is a chance to meet like minded colleagues who are excited about engaging undergraduates in research and understand both the benefits and challenges. There is a wealth of useful information: how to convince institutions to make changes to facilitate the process of research with undergraduates, what are the current trends in higher education related to research with undergraduates, and what are the funding issues that will be shaping the landscape in the near future. At this particular conference the foci on faculty-student collaboration across the curriculum, faculty development and all career stages,
a research supportive curriculum, assessment of undergraduate research and links to civic engagement should appeal to faculty members and administrators with broad interests related to undergraduate research."
The Council on Undergraduate Research and its affiliated colleges, universities, and individuals share a focus on providing undergraduate research opportunities for faculty and students at predominantly undergraduate institutions. CUR believes that faculty members enhance their teaching and contribution to society by remaining active in research and by involving undergraduates in research.
For more on CUR, visit the organization's Web site. Conference information can be found by clicking here.
Back