Prof. Ken Bode Recalls the Bizarre White House Meeting of Nixon and Elvis
February 24, 2006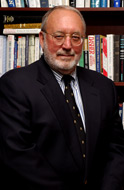 February 24, 2006, Greencastle, Ind. - "Ask yourself, what do you think is the most popular presidential photo at the National Archives? A President's Day quiz put this in my mind," begins this week's Indianapolis Star column by Ken Bode, Eugene S. Pulliam Distinguished Visiting Professor of Journalism at DePauw University.
Is the image in question, "Harry Truman holding the famous 'Dewey Defeats Truman' headline?," Dr. Bode asks. "The photo of Nixon on the helicopter, waving his arms on resignation day? Miss Monica on the rope line hugging President Clinton? None of the above. But the answer triggered more questions, so I browsed the wonderful Web site of the National Archives to recreate one truly meaningless moment of history. Meaningless, except that more people request this photo from the Archives than any other presidential moment: the day Nixon met Elvis."
Bode then goes on to recount the events that brought the singer to 1600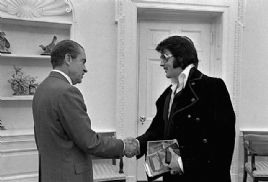 Pennsylvania Avenue on December 21, 1970. "Remember, now, the rock star who arrived at the Oval Office with two body guards was the 1970 version, the younger, slimmer, primal Elvis who still electrified millions of fans. Elvis carried a sackful of badges and police paraphernalia, eager to show the president. White House aide Egil Krogh described Elvis' outfit as rock-star resplendent, with 'tight fitting dark velvet pants, a white silky shirt with very high collars and open to below his chest, a dark purple velvet cape, a gold medallion and heavy silver-plated sunglasses with "EP" built into the nose bridge.' Around his waist was a belt with a huge four-by-six inch gold buckle." (photos at right and below: National Archives and Records Administration)
The professor continues, "The White House photographer snapped 28 pictures of the meeting. According to the official White House memorandum, Presley mentioned that he has been studying communist brainwashing and the drug culture for 10 years. He also condemned the Beatles as a real force for anti-American spirit." Presley came to offer his assistance to Nixon in fighting
illegal drugs. "Assured that his badge as an agent of the Bureau of Narcotics and Dangerous Drugs would be ready soon, Elvis grew emotional. 'Presley again told the president how much he supported him, and then, in a surprising, spontaneous gesture, put his left arm around the president and hugged him.' All Elvis really wanted was another badge."
The complete article can be accessed at College News.org. Visit the National Archives' "When Nixon Met Elvis," which includes the images that accompany this story and others, as well as a detailed account of the odd meeting, here.
Learn about Ken Bode's column from last Friday's Star here. The professor was also quoted in Saturday's New York Times.
Source: Indianapolis Star
Back