3rd Man Brings Its Jazz to the Duck Thursday Night
February 28, 2006
February 28, 2006, Greencastle, Ind. - The contemporary jazz trio 3rd Man visits Greencastle this Thursday, March 2, as the latest entry in the DePauw Jazz at the Duck series. Featuring DePauw professor and bassist Jack Helsley, the Indianapolis-based group will perform original compositions that hint at the stylings of such modern jazz artists as Bill Frisell and John Abercrombie. Like all DePauw Jazz at the Duck events, the concert will run from 9 to 11 p.m. and is free and open to the public at Walden Inn's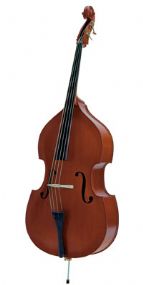 Fluttering Duck.
Critics have heaped considerable praise on this fusion-influenced ensemble, which also features guitarist Peter Kienle and drummer Jesse Nolan. Walter Horn of Cadence magazine called 3rd Man's eponymous release "tight, intelligent, and attractive," showcasing pieces that "display a delicate ear for interesting harmonies and changes." The group's second album on the ACME label, Freed Men, sees the addition of saxophonist Tom Clark on selected tracks.
"3rd Man offers considerable diversity to the series and should show many of our audience members an exciting direction in contemporary jazz," says Paul Musser, director of DePauw Jazz at the Duck. "It's a wonderful musical experience that everyone should take the time to hear and experience."
Learn more about 3rd Man at the band's Web site. Visit the DePauw University School of Music by clicking here.
Back