Edward Jones Managing Partner Jim Weddle '75 Discusses His Successful Journey in On Wall Street
March 1, 2006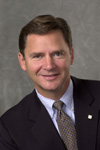 March 1, 2006, Greencastle, Ind. - James D. Weddle, managing partner of Edward Jones and 1975 graduate of DePauw University, is featured in the March 2006 edition of On Wall Street. Weddle, who has spent 30 years in the securities business, is profiled in the magazine's "Outside the Grid" column.
"Originally, I wanted to become a veterinarian," Weddle is quoted as saying. "After high school, I enrolled in DePauw University in Greencastle, Ind. In January of my sophomore year, I chose an internship with a veterinarian as my independent study program. For a month, I kept his schedule. On Wednesdays, we went to the sale barn -- where farmers buy and sell livestock -- to blood-type the hogs and do a few other things better left unmentioned. Sometimes, in the middle of the night, he'd call to say he was picking me up to 'pull a calf.' That month firmly convinced me: I didn't want to be a veterinarian."
Jim Weddle goes on to describe how he earned his M.B.A. at Washington University of St. Louis, and talked with Edward Jones about a job. "I interviewed with John Bachmann, a future managing partner. He asked for my resume, looked at it for about 10 seconds and then passed it back. He said, 'At Edward Jones, we're interested in hiring the best, and anyone who attended an undergraduate school similar to the one you did need not apply.' I thought no one could be that
uninformed about DePauw or that rude. I told him the only person who would say that must have graduated from our arch rival, Wabash. It was true. He laughed and hired me on the spot."
The complete column can be accessed by clicking here. Read more about Jim Weddle in this previous story.
Back