2006 Putnam County Relay For Life Set for April 29-30
March 7, 2006
Register for 2006 Putnam County Relay For Life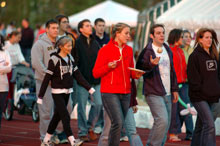 March 7, 2006, Greencastle, Ind. - The 2006 edition of Putnam County Relay for Life is off and running as of this morning, when team captains and American Cancer Society volunteers come together for the annual kickoff breakfast in the ballroom of DePauw's Memorial Student Union Building. A joint effort between the DePauw and Putnam County communities, the 24-hour event is held at Blackstock Stadium and each year has raised new record high totals for the fight against cancer. This spring's Relay will take place April 29-30.
"With our baseball theme this year, we like to think of the kick-off breakfast as us

throwing out the first pitch," says DePauw senior Matt Ehinger, Relay for Life co-chair.
The 2005 Putnam County Relay For Life raised a record-high $233,098, and ranked fifth in the nation for per capita fundraising (raising $6.47 per resident of Putnam County), up from the previous two years when it ranked sixth and ninth respectively. Last year's Relay brought together 160 teams and 1,387 registered walkers -- both all-time records for the nine-year-old fundraiser -- who raised crucial dollars to assist the fight against cancer.
For a second consecutive year, Putnam County Relay For Life was named an "All-American Relay" in 2005. Putnam County's event also received an honorable mention in "Heart of Relay: Outstanding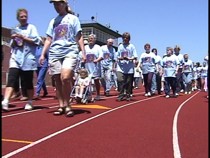 Engagement of Youth in a Community Event," and an "Online to a Cure Award 2005" for their its efforts to raise funds for the event over the Internet. The DePauw-hosted Relay is a two-time winner of the national "Heart of Relay" award.
Putnam County Relay For Life has seen phenomenal growth over the years. In 1998, the event raised $20,000. The 1999 total of approximately $30,000 was eclipsed by 2000's $42,000. Then, 2001 brought in $80,000, followed by $127,000 in 2002, more than $162,000 in 2003, last spring's $208,735 and now, 2005's record of more than $230,000. Read more about the event in this previous story.
"The money raised directly benefits the people affected by cancer," co-chair Martha Leader, a DePauw senior, tells Greencastle's Banner-Graphic in an article previewing the kick-off breakfast. "The American Cancer Society is dedicated to preventing cancer, saving lives and easing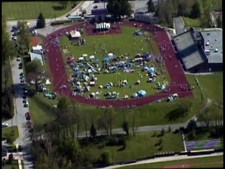 suffering. Every donation supports those goals."
Access the newspaper article here. For more information on Relay For Life, and to register for next month's event, click here, send an e-mail here or call (765) 720-5786.
You can get a flavor of what Relay For Life is all about in a video created by Chris Newton '85 of DePauw's Pulliam Center for Contemporary Media. Clips are accessible in this previous story.
Back