Innovative Educational Technology Started by Prof. Dave Berque Receives a US Patent
March 3, 2006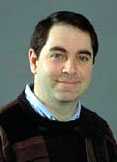 March 3, 2006, Greencastle, Ind. - Technology that started at DePauw University and is now enhancing teaching and learning in classrooms around the nation has resulted in a patent. The United States Patent and Trademark Office has assigned patent #7,003,728 B2 to "System for Knowledge Transfer in a Group Setting." The pen-based technology -- which allows teachers and students to electronically share notes -- was started by Dave Berque, professor of computer science at DePauw, and is now manufactured and marketed by DyKnow.
Issued February 21, 2006, the patent lists Professor Berque as the inventor.
"This has been a long time coming with the original filing taking place more than four years ago and several iterations taking place with the patent office since then," Dr. Berque notes. "The patent process is extremely rigorous. The issue of this patent validates the novel approach we are taking to enhance the learning experience both in and out of the classroom."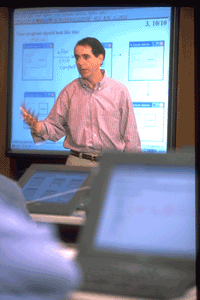 DyKnow is devoted to empowering educators with intuitive technology-based tools that enhance sound teaching strategies and engage students. As the company's Web site states, "DePauw University professor Dave Berque, Ph.D., imagined eliminating the student's role as 'a human copy machine'. After extensive research and development, the DyKnow Vision interactive teaching concept was born. Then the DyKnow company was established to bring Vision to educators." Learn more by clicking here.
Dave Berque wrote about his technology in a November article in T.H.E. Journal and was also noted in recent articles in Campus Technology and University Business.
See a video featuring Dr. Berque here:

[Download Video: "Dave Berque - Professor of the Year" - 7427kb].
Back