Junior Austin Brown Tells ESPN2's Cold Pizza of the "Pandemonium" That Followed His "Surreal" Game-Winning Basket
March 1, 2006
Also: Shot is ESPN's 'Play of the Day'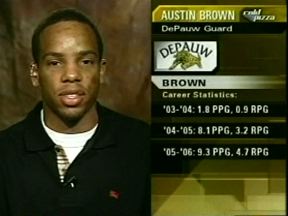 March 1, 2006, Greencastle, Ind. -

[Download Video: "Sunday's Hero on ESPN2" - 3200kb] "It kind of came right to me," Austin Brown says of the basketball that was tipped his way as the clock neared zero Sunday in the Southern Collegiate Athletic Conference men's championship game. "I was kind of just in the right spot at the right time and I knew I didn't have that much time left. So I threw it up and saw -- wow, it might have a chance to go in -- and it went in." It was, the junior told ESPN2's Cold Pizza in a live interview from Indianapolis this morning, "just amazing."
Brown says it was "surreal" after the basketball banked in. "The first person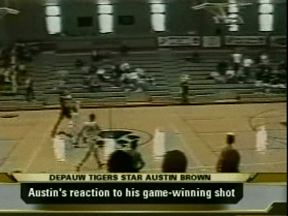 I saw was my teammate, Todd Capes, so I just kind of jumped on his back, and it was just pandemonium from there."
Cold Pizza co-host Dana Jacobson asked the DePauw junior if he and his teammates would have felt confident had the game against Centre gone to overtime. Brown says he believes the Tigers would have won.

[Download Video: "Confidence" - 2641kb] "We've just been playing so well. We've been taking a couple of things each game that we wanted to focus on defensively, especially, and trying to incorporate them into what we're doing. And we've been executing well and our entire team has just been playing so great, so I definitely would have felt confident."
Jacobson told Brown the 61-foot shot,
which has been replayed on sportscasts around the nation countless times this week and was ESPN's "Play of the Day Tuesday,

[Download Video: "Taking Care of Business" - 1328kb] "has put you on the national map." But the modest junior, who hails from Skokie, Illinois, stressed that he and his teammates -- as well their colleagues on DePauw's women's basketball team -- are focused on the task ahead: winning the NCAA Division III championships.

[Download Video: "Cold Pizza Welcomes Austin Brown" - 1933kb] The ESPN2 segment began with multiple replays of the shot that gave DePauw a 64-61 victory over Centre, the SCAC title, and a trip to the NCAA tournament . It ended with host Jacobson giving viewers "a chance to know Austin." Brown was asked a number of questions,

[Download Video: "Q & A Time" - 4011kb] including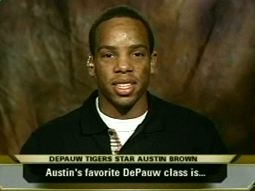 his favorite class at DePauw (Foundations of Education with Tom Dickinson); his least favorite class ("No least favorite classes; they're all good," Brown responded); and who will win the Division III national championship ("Hopefully the DePauw Tigers.").
The program noted in closing that the men's team begins tournament play Friday at Wisconsin-Whitewater.
For more information on the tournament, including tickets, read this previous story.
Source: ESPN2
Back