Digitally Literate Students Can Bridge Global Divides, Prof. Dennis Trinkle '91 Writes
March 5, 2006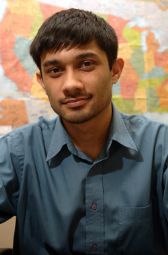 March 5, 2006, Greencastle, Ind. - "Abhi Chaudhuri, one of my senior students from India, is working as the lead technologist for a start-up company located in Greencastle that provides resource management solutions for the global aviation industry," writes Dennis A. Trinkle in today's Indianapolis Star. "Attracted by DePauw University's nationally recognized 361° technology programs, he has been able to gain hands-on experience and build connections through several technology-related internships on and off campus," continues Trinkle, associate vice president for academic affairs and chief information officer at DePauw.
"Because of these opportunities, he will likely remain in Indiana as an employee of the company, Aviation Core Matrix, after graduation. And in the future, Abhi [seen at left] will probably help create other companies in Indiana with global connections."
Trinkle, a 1991 graduate of DePauw, is one of three Indiana business and academic leaders who contributed op-eds to today's Star to "explain why the state's public and private sectors must play an important role in renewing an emphasis on science, math and technology to ensure a prosperous
future," in the words of the newspaper's editors. The other contributors are Martin C. Jischke, president of Purdue University and chair of the Association of American Universities, and Gail Cassell, vice president of scientific affairs and distinguished research scholar for infectious diseases at Eli Lilly and Co.
Dr. Trinkle (pictured at right) asserts, "Abhi's experiences and success clearly illustrate the need for students to develop technology fluency so they can thrive in today's world. Digital literacy is now a baseline expectation for nearly any field. More importantly, however, it demonstrates where Indiana colleges and universities need to devote greater resources so that graduates are prepared to compete and live in the 21st century. Information technologies have radically transformed the global economy during the last 20 years, but we are not yet sufficiently preparing students for these new realities. Higher education institutions are not doing enough to ensure that students develop the science, technology and cultural fluencies that will be necessary to live and work effectively in a world that is tightly connected and flattened by technology."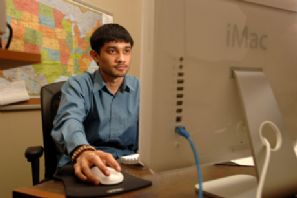 In addition to helping students "master digital fluencies" and find ways in which they can put their skills to use -- as 361° has with Chaudhuri and other students -- colleges and universities must prepare graduates "to build international relations and to collaborate globally. They must become sensitive to and comfortable with international cultures and contexts. This will be the key to Indiana's economic and political well-being in the 21st century," states Trinkle, who is also Tenzer Family University Professor in Instructional Technology at DePauw.
"One positive aspect of a globally connected world is that anyone can collaborate or compete globally from Indiana with the right idea and motivation, he notes, concluding: "Indiana colleges must hold themselves accountable for transforming their programs to meet these needs. So should businesses and the state and local governments who stand to benefit."
Access the complete essay by clicking here. Dennis Trinkle was also quoted in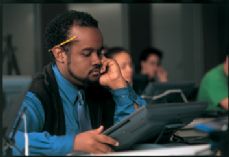 a USA Today story Thursday that cited DePauw among "Colleges Going Cyber." Read more in this previous story.
DePauw is among the "Top 50 Most Unwired College Campuses," according to a survey of all institutions of higher learning -- big and small -- sponsored by Intel Corporation. DePauw is ranked #30 -- the highest of any liberal arts college in America -- in the report, which appeared in the October 17 edition of U.S. News & World Report. More than 1,000 campuses were included; only 50 made the final list. Survey findings are based on the percentage of campus that is covered by wireless technology, the number of undergraduate students and the computer to student ratio for each school.
Source: Indianapolis Star
Back