UNC-Wilmington's Brad Brownell '91 is Colonial Athletic Association Men's Basketball 'Coach of the Year'
March 5, 2006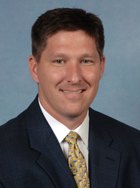 March 5, 2006, Greencastle, Ind. - "Brad Brownell joked that he is older than he looks, though not as old as he feels," begins a profile of the 1991 DePauw University graduate in the Daily Press of Hampton Roads, Virginia. "It's probably a combination of good genes, salt air and the effort required to wring every ounce out of an underpublicized basketball team and program. Brownell is the head coach at UNC-Wilmington, where they win consistently and dazzle no one in the process -- as accurate a reflection of the man at the helm as you're likely to find."
Last week, Colonial Athletic Association "voters justly chose Brownell the Coach of the Year... Brownell, 37, collected his second Coach of the Year trophy in his four years at Wilmington," writes Dave Fairbank. North Carolina-Wilmington upped its overall record to 24-7 today with a 69-54 victory over Northeastern today in the CAA semifinals. The Seahawks have won seven consecutive games and matched the school record for single-season victories.
Brownell tells the newspaper, "It means that a lot of people in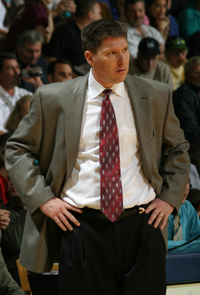 our program did their jobs really well." He adds, "I talk to my assistants all the time about looking for kids who fit into our program. I won't say it's easy to find talented kids, but sometimes you take a kid who maybe isn't as talented because you think they're a better fit within your program. You recruit character as much as talent. If you do that, you have a better chance of sustaining a program and a better chance of everybody buying into the concept of team."
Read the complete article by clicking here. Brownell's award is also noted in this Washington Post story.
Brad Brownell is a native of Evansville, Indiana. Before coming to Wilmington, he spent a year as an assistant to Jim Crews at the University of Evansville, and two alongside former DePauw head coach Royce Waltman at the University of Indianapolis. Learn more in this previous story.
Back