Jim Robinson '70 Appointed VP and Chief Actuary at The Newport Group
March 7, 2006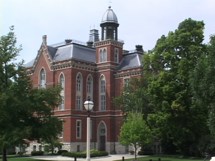 March 7, 2006, Greencastle, Ind. - The Newport Group, a national full-service provider of both qualified and non-qualified retirement plans, has appointed James E. Robinson vice president and chief actuary. In his new role, Robinson -- a 1970 graduate of DePauw University -- will lead Newport's newly-formed financial and actuarial services group.
"Jim is an industry leader with over 25 years of experience in investments, insurance and corporate finance," says chief operating officer Bryant Kirk. "His hands-on product and asset management experience is an ideal complement to Newport's expertise in tailoring plan funding specifically to client goals. In addition, as we continue the current rapid growth in the volume of our business, we will be looking to Jim to oversee the mentoring and professional development of Newport's financial and insurance services staff."
Before joining Newport, Robinson was a vice president with CIGNA, where he was active in the development of several innovative corporate insurance products. In addition to investments and corporate finance, his experience encompasses consulting, sales, and product management. An announcement at Business Wire states, "Robinson earned his bachelor's
degree in mathematics from DePauw University and his master's degree in management science and operational research from the University of Warwick (England).
Read more by clicking here. Visit the Newport Group here.
Back