Art of DePauw Faculty Members on Display March 15-April 16 at Peeler Center
March 9, 2006
Also: Religion and Boxing are Themes of 'Vincent Valdez: Stations,' February 1-April 30; 'Skirting the Line: Conceptual Drawing,' February 15-May 7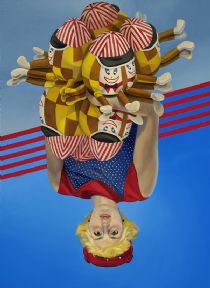 March 9, 2006, Greencastle, Ind. - You're invited to enjoy the work of DePauw University's studio art faculty, which will be on display at the Richard E. Peeler Art Center, March 15 through April 16. From ceramic vessels to figurative painting to conceptual sculpture, a wide range of media and ideas will be on display. The exhibition is free and open to all. (at left: Forrest Solis, Humpty-Dumpty, 2006; oil on canvas, 44" x 32", courtesy of the artist)
Faculty members participating in the 2006 exhibition include:
David Herrold (Ceramics)
Robert Kingsley (Painting/Drawing)
Lori Miles (Sculpture)
Susan Mullally (Photography)
Forrest Solis (Painting/Drawing)
DePauw's faculty has exhibited nationally and internationally in such venues as the WWW Gallery, Stockholm, Sweden; The Dairy Barn, Athens, Ohio; Lankershim Art Gallery, North Hollywood, Cal.; Bemis Center for Contemporary Arts, Omaha, Neb.; Smithsonian Institution, Washington, D.C.; Erickson/Elins Gallery, San Francisco, Cal.; and Presso Lo Studio, Italy.
The artists will attend an opening reception and discuss their work on Wednesday, March 15, from 4 to 6 p.m. in the Visual Arts Gallery.
The galleries at the Richard E. Peeler Art Center are open Monday through Friday from 9 a.m. to 4 p.m.; Saturday 10 a.m.-4 p.m.; and Sunday 1-5 p.m. Please call the gallery information line at (765) 658-4822 or click here for more information about special events associated with this exhibition.
Back