DePauw Chamber Singers Present 'Songs for Athene' Wednesday
March 11, 2006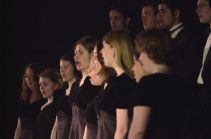 March 11, 2006, Greencastle, Ind. - The DePauw Chamber Singers and director Gabriel Crouch will perform a concert entitled "Songs for Athene" on Wednesday, March 15 in Thompson Recital Hall. Beginning at 7:30 p.m., the performance marks the Chamber Singers' first concert of the semester is free and open to the public.
The evening's theme centers on the ideas of loss and remembrance, taking its title from an eponymous work by British composer John Tavener. Song for Athene itself was made famous after its performance at the funeral of Princess Diana in 1997.
"The 'Athene' in the title refers to two formidable women," elaborates Crouch (seen below right) on the dual meaning. "They are the goddess Athene, the Greek Goddess of war who was born clad in her battle armour, and Athene Hariades, a wonderful actress who was killed in a cycling accident in 1993."
While the first half of the program contains musical epitaphs by Tavener and
Robert Pearsall, celebrating the lives of people who have recently passed away, the program's second half deals with the immediate aftermath of war, and the hope for peace. For the latter, DePauw professor and cellist Eric Edberg will join the ensemble on A Farewell to Arms by Sir Richard Rodney Bennett as well as a new arrangement of a Shaker Pacifist Hymn that features Edberg's noted improvisatory skill.
"We are thrilled to be working with Dr. Edberg in this project, and to be performing such challenging and beautiful music," says Crouch.
Visit the DePauw University School of Music online by clicking here.
Back