Sunday Afternoon DePauw Chorus Concert Features Tributes to Mozart and Hogan
March 15, 2006

March 15, 2006, Greencastle, Ind. - The DePauw University Chorus and director Gabriel Crouch will perform a spring choral concert on Sunday, March 19 at 3 p.m. in Kresge Auditorium. Free and open to the public, the event features works by W.A. Mozart, Jake Heggie, Peter Warlock, as well as spirituals arranged by Moses Hogan.
Continuing the celebration of the 250th anniversary of Mozart's birth, the Chorus will dedicate the first half of its Sunday program to the Austrian master. Included among these wonderful works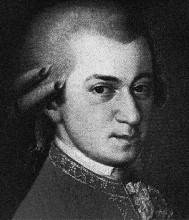 are the composer's Ave Verum, two selections from Solemn Vespers, and Quis te Comprehendat.
"This is, of course, a special year for Mozart lovers," says Crouch. "Hot on the heels of those wonderful operatic performances of The Magic Flute in Moore Theatre, we have four of his wonderful choral pieces to offer our audience."
The second half of the program begins with Jake Heggie's I Shall not Live in Vain. Featuring the choir's soprano section, the performance builds upon Heggie's recent stay at DePauw as a part of the Music of the 21st Century contemporary music festival. Peter Warlock's riotous drinking song, Captain Stratton's Fancy, follows, showcasing the chorus' tenors and basses.
Closing the program will be three spirituals arranged by the late Moses Hogan. "Nobody arranged spiritual songs like him," says Crouch. "Hi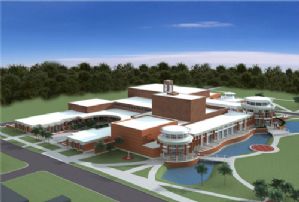 s premature death in 2003 robbed this country of one of its great musicians, and the three we will be performing are amongst his most beautiful, including the unforgettable The Battle of Jericho."
Visit the DePauw University School of Music online by clicking here.
A renovation and addition project, now under way, will create the Judson and Joyce Green Center for the Performing Arts (architect's rendering seen at left) at DePauw. Learn more in this previous story.
Back