World Renowned Flutist Matthias Ziegler Performs Sunday Evening Guest Artist Concert
March 16, 2006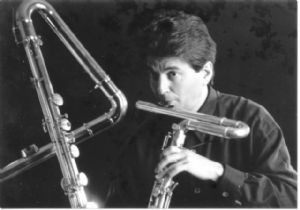 March 16, 2006, Greencastle, Ind. - Among the world's most versatile and innovative flutists, Matthias Ziegler will present a solo recital Sunday, March 19 at 7:30 p.m. at Thompson Recital Hall. Featuring his own compositions on the quarter-tone, alto, bass and electro-acoustically amplified contrabass flutes, this unique event is free and open to the public.
Ziegler presently serves as the principal flutist with the Zurich Chamber Orchestra but is thoroughly committed to both traditional flute literature as well as contemporary music that crosses the boundaries between classical music and jazz. According, his performances take place in a vast range of contexts and have included collaborations with composer and harpist Andreas Vollenweider, percussionist Pierre Favre as well as with the American contrabass player Mark Dresser.
Ziegler is also a member of the Collegium Novum Zurich, where he has worked with distinguished composers like Mauricio Kagel, Heinz Holliger and George Crumb.
Searching for new sounds, Ziegler has enormously broadened the expressive potential of the traditional flute and his unique electroacoustically amplified contrabass flute. Amplifying the flute allows him to increase the volume of the microsound structures of the flute to an audible level. Such efforts are audible on the 1999 New Albion Records release, Uakti: New Music for Flute.
"All sounds (key noise, winds, tongue stops) usually neglected on the flute are amplified," says Ziegler of his music direction and musical philosophy. "There is a whole orchestra inside the flute, which allows me to play solo-polyphonic music."
Inspired by the new dimension of sounds of these instruments, composers such as Michael Jarrell from Switzerland, Benjamin Yusupov from Tadjikistan and the American Mark Dresser have written

flute concertos for him.
In addition to the highly anticipated Sunday evening recital, Matthias Ziegler will also be conducting a master class that focuses on both flute performance and general improvisation, Monday, March 20 from 11 a.m. to 1 p.m. in Thompson Recital Hall.
Visit the DePauw University School of Music online by clicking here.
Back