Two DePauw Alumni -- Lee Hamilton '52 & Vernon Jordan '57 -- Among 10 National Leaders Appointed to Study Iraq War
March 17, 2006
March 17, 2006, Greencastle, Ind. - Two alumni of DePauw University -- Lee H. Hamilton '52 and Vernon E. Jordan Jr. '57 -- are among ten members of a new bipartisan, independent panel requested by Congress "to study the U.S.-led war in Iraq and to make policy recommendations for both Capitol Hill and the White House," reports CNN International. Hamilton (pictured at left) -- who co-chaired the 9/11 Commission and served as a congressman for more than three decades -- will co-chair the new Iraq Study Group; Jordan (seen below) -- an attorney, civil rights leader, and former presidential adviser -- is one of the members.
Others on the panel are former New York Mayor Rudy Giuliani, former Clinton administration Defense Secretary William Perry, and Alan Simpson, a Republican former senator from Wyoming. "Panel members said another prominent Republican will join the group but declined to say who it is. A congressional Democratic leadership aide identified that person as retired Supreme Court Associate Justice Sandra Day O'Connor," CNN reports.
Hamilton, a Democrat and former chair of the House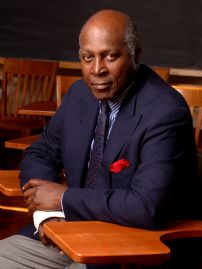 Committee on Foreign Affairs, calls Iraq a "formidable challenge" but adds, "We make no judgment right now."
Former Secretary of State James Baker is a Republican who will share leadership of the panel with Hamilton. Baker says, "Our purpose is to undertake a bipartisan, forward-looking assessment of the current and prospective situation on the ground in Iraq and its impact on the surrounding region, and its consequences on United States interests."
Read the complete story by clicking here.
Back