Research of Seven Students and Two Alumni Highlighted at Ecology and Evolution Conference
March 20, 2006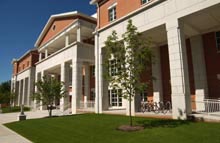 March 20, 2006, Greencastle, Ind. - The work of seven current students and two recent alumni of DePauw University was highlighted at the Twenty-Sixth Midwest Ecology and Evolution Conference (MEEC), held over the weekend at St. Louis University. The conference is completely organized and run by graduate students and serves as venue for graduate students, undergraduates and post-doctoral students to present their research findings.
DePauw students and graduates presented three posters and made two talks at the event:
Qiming Deng, a 2005 graduate, presented a talk entitled "Phylogeography of an intertidal barnacle and its gastropod predator in the Gulf of California."
Ben Steffen, another 2005 alumnus, gave a talk co-authored by junior Ryan Smith on "The role of genetic variance in the analytical modeling of conditional strategies."
Marisa Yochum, a junior, presented a poster co-authored with senior Lauren Rakes on "Convergent evoluiton of a polyphenism: the effects of cyclic adenosine monophosphate on pupal color polyphenism in the swallowtail butterfly Papilio polyxenes."
Juniors Ashley Amodeo, Bryan Helm, Lauren Hoffmann presented two posters co-authored with senior Ashley Maire on "The evolution of lifehistory strategies in swallowtail butterflies: the timing of diapause," and "The evolution of lifehistory strategies in swallowtail butterflies: the trade-off between body size and larval growth period."
The research was made possible by a grant from the National Science Foundation, and DePauw's Science Research Fellows program and the Faculty Development Program. Learn more by clicking here.
Back