James B. Stewart '73 Re-Elected Vice President of Author's Guild
March 22, 2006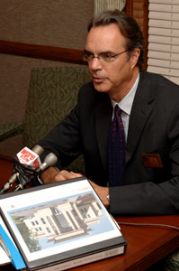 March 22, 2006, Greencastle, Ind. - James B. Stewart, a Pulitzer Prize-winning journalist and bestselling author who is a 1973 graduate of DePauw University, has been re-elected vice president of the Authors Guild. That fact is reported by the Associated Press, which notes that the Guild "represents thousands of published authors and freelance journalists." , Roy Blount Jr. is the organization's new president; like Stewart, children's author Judy Blume was re-elected vice president.
Access the story at the Web site of the Charlotte Observer.
The Authors Guild has been the nation's leading advocate for writers' interests in effective copyright protection, fair contracts and free expression since it was founded as the Authors League of America in 1912. Learn more by clicking here.
The chair of DePauw's Board of Trustees, James B. Stewart won a Pulitzer Prize for his work as front page editor of the Wall Street Journal. Now editor-at-large of SmartMoney magazine, Stewart has authored a number of books, including the recent DisneyWar, as well as Den of Thieves, Blind Eye, Blood Sport and Heart of a Soldier: A Story of Love, Heroism, and September 11th. DisneyWar was listed on several "best of 2005" lists. Read more in this previous story.
Back