Ten from DePauw Spending 'Alternative Spring Break' with Habitat for Humanity in New Orleans
March 25, 2006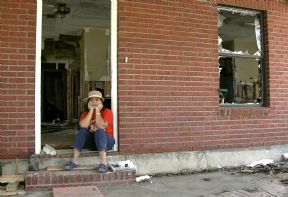 March 25, 2006, Greencastle, Ind. - DePauw University's spring break is underway, and again students are using the time away from classes to help people in need. Nine students and one staff member are en route to the Gulf Coast, where they will spend the next week working with the New Orleans Habitat for Humanity. The DePauw group will be based in St. Bernard Parish, which just southeast of the heart of the city.
"I chose to spend spring break doing this because working with Habitat is something that I've wanted to do for awhile, and relief work for the southern states is still needed," reports Carolyn Thatcher, a DePauw junior and Alternative Breaks Intern. "The other members of the trip seem to be excited to go, too. We are interested in seeing what kind of devastation New Orleans has gone through, and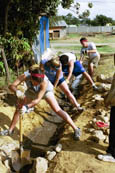 excited about being able to help. We are all preparing ourselves for what could be a shocking sight."
Over fall break in October, 31 members of the DePauw community went to Pascagoula, Mississippito provide relief to victims of Hurricane Katrina. Two of the students who made that journey -- Carter Johnson and Madison Payton -- are also going to New Orleans.
Learn more about service and off-campus study programs at DePauw by clicking here.
Back