Technology of DePauw and MIT Noted in Cincinnati Enquirer Story
March 27, 2006
March 27, 2006, Greencastle, Ind. - In this morning's Cincinnati Enquirer, Lori Kurtzman writes of "a nationwide trend of colleges using technology-related tactics to woo students: According to USA Today, DePauw University in Greencastle, Ind., offers a virtual campus tour that looks like a video game, and the Massachusetts Institute of Technology features 10 student-written blogs on its Web site. Colleges use e-mail, podcasts and even text messages to reach prospective students."
Kurtzman's article examines Xavier University's new efforts to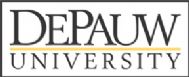 reach high school students through technology. Access the story at the newspaper's Web site.
The USA Today story that she references was published March 5. Read more here.
Back