DePauw Baroque Players to Perform 'Music from Austrian Courts' in Debut Concert, April 5
April 1, 2006
April 1, 2006, Greencastle, Ind. - The DePauw Baroque Players will offer their debut performance on Wednesday, April 5 with a program entitled "Music from Austrian Courts." Free and open to the public, the concert will begin at 7:30 p.m. in the DePauw Performing Arts Center's Thompson Recital Hall.
The ensemble was formed this year by three School of Music faculty members: baroque violinist Allison Edberg, cellist Eric Edberg, and harpsichordist Cleveland Johnson (seen left to right in photo at top). Their goal is to address the under-representation of "early" music in the concert offerings of the School of Music and to introduce audiences to little-known treasures from the time of J.S. Bach and earlier.
"Our debut performance highlights the music of seventeenth-century Vienna and other Austrian courts," says Cleveland Johnson. "Austria was then home to the most jaw-dropping, flamboyant string-playing of the age, and this repertoire allows us to showcase the considerable virtuosity of our violinist, Allison Edberg."

A member of Olde Friends, ViVaCe, and the Indianapolis Baroque Orchestra, Allison Edberg has also collaborated with such early music ensembles as Apollo's Fire, Ensemble Voltaire, the Washington Bach Consort, Chatham Baroque, Early Music Southwest, Les Cordes du Rois, Mirable, and La Monica in recent years.
Eric Edberg, baroque cellist, has also performed with the Indianapolis Baroque Orchestra. He studied baroque cello with Catharina Meints and Kenneth Slowick at the Oberlin Baroque Performance Institute.
A music historian and specialist on early keyboard instruments, Cleveland Johnson was most active in the initial forays of the early-music movement during the 1970s with the German ensemble Fiori musicali, recording for Radio Bremen and the Récreation label. He has since recorded a six-CD set of Heinrich Scheidemann's organ works (Calcante, 1997–2003) and produced considerable musicological scholarship on keyboard works from the German Baroque.
This evening of music from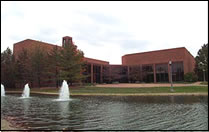 the Austrian Baroque, features works by Johann Jacob Froberger, Johann Heinrich Schmelzer, and Heinrich Ignaz Franz von Biber. It concludes with a rousing Chiacona by Antonio Bertali, featuring Philip Spray as a guest artist on the baroque guitar.
"The Bertali Chiacona alone," says Johnson, "is enough of a reason for audiences to come out and witness our debut performance. It's the kind of unknown gem that makes you wonder what other relics from the past you may have missed out on!"
Visit the DePauw University School of Music online by clicking here.
Back