Hard Working, Community-Minded Journalist Jim Barbieri '50 Profiled in TV Report
June 24, 1986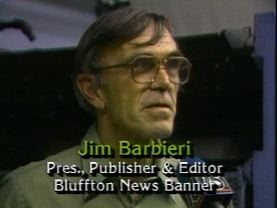 June 24, 1986, Greencastle, Ind. - Jim Barbieri, president, editor and publisher of Indiana's Bluffton News-Banner, "lives, eats, breathes and -- when he gets a chance -- sleeps journalism," according to a television report. Barbieri, a 1950 graduate of DePauw University, was profiled on Fort Wayne CBS affiliate WANE.
"On average Jim writes six stories a day, plus an editorial, during what his associates call a 20-hour workday," reports the station's Ken Owen. "He also shoots his own pictures, takes calls from people who wonder why their paper wasn't delivered, and he recently became co-owner of the News-Banner."
"I really don't regard it so much like work... it's more kind of like a way of life with me, I've been doing it for so long," Barbieri tells WANE.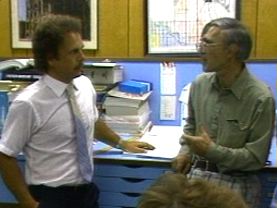 Owen, himself a 1982 graduate of DePauw, tells of how Barbieri was offered a job with the Indianapolis Star upon his graduation from the University, but instead "opted for a life in a smaller town." He's been Bluffton's hardest working journalist ever since.
The story includes footage and quotes of Jim's wife, Barbara Forsell Barbieri, a 1951 graduate of DePauw, and Bluffton residents who sing the newspaperman's praises. "He's a big boon to our community," Mike Smekens, chief deputy of the Wells County Sheriff's Department, says. "We'd miss him if he wasn't there."
See the entire piece here:

[Download Video: "WANE-TV Feature on Jim Barbieri" - 10,623kb]. It's also embedded below.
Source: WANE (CBS)/Fort Wayne, Ind.
Back