WGRE Begins Broadcasting
April 28, 1949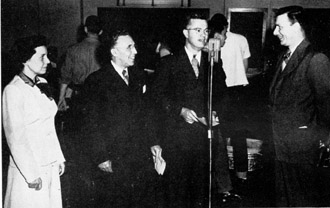 April 28, 1949, Greencastle, Ind. - On this day, WGRE began broadcasting as the first radio station in Putnam County. As the student station signed on, it paid tribute DePauw University President Clyde Wildman, who was hospitalized after being involved in an accident and was unable to be on hand for the festivities. President Wildman was, however, provided an FM receiver and was able to hear WGRE's initial broadcast from his hospital bed. (photo, l-r: Elizabeth Turnell, program director and assistant professor of speech; Herold T. Ross '18, station director and head of the speech department; Dean Edgar Cumings; Greencastle Mayor Harold W. Stewart)
According to the book, DePauw: A Pictorial History, "Radio broadcasts had begun on a regular basis from the DePauw campus as early as April 1941, when an arrangement was made with station WIRE in Indianapolis to carry two or three 15-minute educational programs a week from an improvised studio in the psychology department's experimental laboratory on
the third floor of Harrison Hall. In 1948 Herold Ross of the speech department, who had been named director of the radio program in 1945, applied to the Federal Communications Commission for a license permitting the University to operate a 10-watt FM station. The license was granted, and in April 1949 station WGRE-FM began broadcasting from studios in rooms 318 and 319 of Harrison Hall, using a transmitter donated by the General Electric Corporation. Named as program director to assist Ross, who became the station director, was a new member of the speech department who was to exert a major influence on the development of radio at DePauw, Elizabeth Turnell." (above photo from WGRE's studios: James Dapp '50; the station's chief monitor, John Cook '51; and Kenneth Welliver '51, who is seen delivering the news)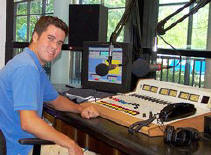 The text adds, "In May 1951 WGRE turned back its studios in Harrison Hall to the psychology department and moved its operations to the new and improved facilities in the Memorial Student Union Building."
Since 1991, WGRE has been located in the Pulliam Center for Contemporary Media. The station, managed and run by nearly 150 DePauw students, operates 24 hours a day at 800 watts and has been accessible via the Internet since 2000.
Learn more about WGRE by clicking here.
Back