US Sen. Richard Lugar Pays Tribute to "Great Hoosier Newspaperman and Civic Leader" Jim Barbieri '50
April 4, 2006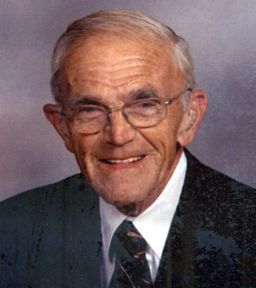 April 4, 2006, Greencastle, Ind. - Indiana's senior United States Senator, Richard Lugar, is paying tribute to Jim Barbieri, "a great Hoosier newspaperman and civic leader." Lugar today offered a statement that will be published in the Congressional Record to note the contributions of Barbieri -- editor of the Bluffton News-Banner and 1950 graduate of DePauw University -- who passed away Saturday.
The senator notes that Barbieri "attended DePauw University in Indiana where he was editor of the student newspaper." After graduation, Barbieri turned down a job offer from the Indianapolis Star to work at the small-town News-Banner.
"Beginning in 1950, Jim Barbieri worked almost every job conceivable" at the Bluffton paper, Lugar states. "He was a reporter, advertising salesman and circulation director. He became general manager of the venerable Wells County publication in 1975, and then co-owner, president and publisher in 1986. It was not unusual that on any given day he might write every page-one story, the editorial, and if someone called in sick, he'd pick up delivery route too. He was always available because he only missed one day of work over a 50-year stretch."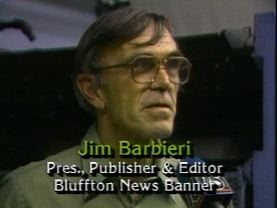 Senator Lugar continues, "Jim Barbieri had that venerable small-town newspaperman ready opinion on virtually everything that passes us by in life. Whether it was roads, parks or the time Indiana should set its clocks in the summer, Jim used his unique forum to editorialize. I knew he was always looking over my shoulder proving ready comment on anything I did in the state, national or international arena. On visits to Bluffton, Jim Barbieri would cover the community event I was attending, and then in an extensive interview, explore my thoughts on the issues of the day. He would then exhaustively report all of it in the newspaper astutely and accurately. He did not cease to impress all with his indefatigability."
In closing, the senator recalls a poem that Jim Barbieri wrote to celebrate his 50 years at the newspaper:
"So that the way I work may be out of date, But don't try to bend me and make me go straight, Let me go on in my very old fashion, Covering the news with an old time passion.

The style in which my career has been blest, To you may be faulty, but I (gave) it my best, When God takes me home at the end of my years, He'll not straighten me out and pop all my gears.

He'll say 'you, reporter, for the sins that you bring, We'll take you like you are with a bent angelic wing.' And we all know that Heaven could not run well, Without a journalist to give them all hell. So in the celestial press room we bid you to trod, But don't ever misquote Peter or misspell God."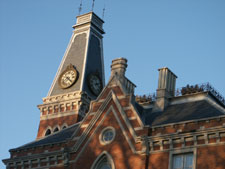 Access the Bluffton News-Banner coverage of Jim Barbieri's passing by clicking here.
A 1986 television news story on the journalist -- who received the Hoosier State Press Association's Charlie Biggs Commitment to Community Award and served on the board of DePauw's Pulliam Center for Contemporary Media -- can be found within this previous story. It is also embedded below.
Back