'I-Light' Will Bring a Faster, Fiber Optic Network to DePauw Community
April 4, 2006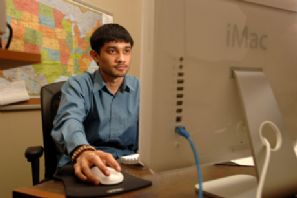 April 4, 2006, Greencastle, Ind. - DePauw University students and members of the faculty and staff will be able to access an expanded fiber optic network called "I-Light." Indiana University and Purdue University, which jointly manage the state's I-Light Expansion Project, are hosting a forum today in Indianapolis to help colleges and universities prepare for the launch, which will probably take place this year. I-Light will make possible innovative uses of technology for instruction and scholarship at levels and speeds not previously possible in the state.
"DePauw is excited about the opportunity to join I-Light," says Dennis Trinkle, associate vice president for academic affairs and chief information officer at DePauw, in an announcement distributed by IU. "We have faculty members in a range of disciplines from biology and geology to music and
modern languages who are excited about the coming possibilities for partnered research and teaching efforts. We see many possibilities for enhancing teaching, learning and research, and we anticipate that our faculty, staff and students also will actively contribute to the community enabled by I-Light."
In November 2005, Indiana Gov. Mitch Daniels announced his intention to release funding for the I-Light Expansion Project -- also known as I-Light2 -- and assigned to IU and Purdue responsibility for the expansion, management and operation of the resulting statewide I-Light network. This development expands the I-Light fiber-optic network far beyond the Bloomington-Indianapolis-West Lafayette corridor that it currently serves and will provide Indiana universities and colleges an opportunity to increase their connectivity to gigabit speeds.
"This enhanced network has potential to benefit every student enrolled in a college or university in Indiana," says Mark Bruhn, IU
associate vice president for telecommunications. "When the expanded I-Light network becomes operational, it will account for more active fiber miles per capita than any other state network in the nation."
Read more by clicking here.
DePauw is among the "Top 50 Most Unwired College Campuses," according to a survey of all institutions of higher learning -- big and small -- sponsored by Intel Corporation. DePauw is ranked #30 -- the highest of any liberal arts college in America -- in the report, which appeared in the October 17, 2005 edition of U.S. News & World Report. More than 1,000 campuses were included; only 50 made the final list. Survey findings are based on the percentage of campus that is covered by wireless technology, the number of undergraduate students and the computer to student ratio for each school.
An op-ed by Dr. Trinkle, a 1991 DePauw graduate, examining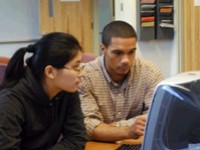 how DePauw's 361° technology programs have created new opportunities for students to learn and innovate and the implications that has for the economies of Indiana and the world, was published in the March 5 Indianapolis Star. Learn more in this previous story.
Finally, DePauw was cited in a March 2 USA Today story headlined "Colleges Going Cyber." Read more here.
Back