Boston Globe Talks with Prof. Ken Bode About Katie Couric's Successor
April 5, 2006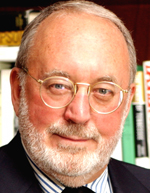 April 5, 2006, Greencastle, Ind. - "I think Meredith is the closest thing you can get to Katie Couric," Ken Bode tells the Boston Globe of Meredith Vieira, who is rumored to be one of the candidates to succeed Couric as co-anchor of NBC's Today Show. Couric announced on this morning's broadcast that she will be leaving NBC at the end of May to become the anchor of the CBS Evening News.
Bode, Eugene S. Pulliam Distinguished Visiting Professor of Journalism at DePauw, is identified in the Globe story as "a former NBC News correspondent who is now a professor of journalism at DePauw University in Indiana. Bode, who knows both Couric and Vieira personally, described Vieira as 'very smart, very quick, and very congenial. She has three children, teenagers down to a 10- or 11-year-old. She lives the life of most American women. She has a history of being absolutely determined to balance family and professional life. She actually turned down an offer from another network morning show before.'"
The Globe's Suzanne C. Ryan notes that Vieira is married to journalist Richard Cohen. "Bode, who is close friends with Cohen, said Cohen is supportive of whatever his wife wants to do. 'I know the one condition for Meredith is she has to be able to manage her family,' Bode said. 'Now that her oldest boy is going to college, maybe this is the right time.'" (photo at right shows Katie Couric with Erin Greenlee '05, one of many DePauw students who've interned at Today; junior Mary Compton is with the program this semester)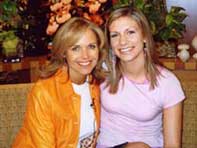 Ryan notes, "Media reports pegged Meredith Vieira, cohost of ABC's The View and host of the syndicated Who Wants to Be a Millionaire, as getting Couric's spot on Today." Other potential replacements for Couric include NBC's Campbell Brown and MSNBC reporter Natalie Morales.
Read the complete story at the Globe's Web site. Another report on Couric's announcement this morning can be found here.
Source: Boston Globe
Back