Americans "Disgusted with Washington" as Mid-Term Election Nears, Says American Conservative Union's David Keene
April 5, 2006
April 5, 2006, Greencastle, Ind. -

[Download Audio: "The 2006 Elections" - 479kb] "We're at a point where the American people are more disgusted than usual with Washington," David Keene, chairman of the American Conservative Union, told an audience at DePauw University this afternoon. Appearing as a guest of The Gertrude and G.D. Crain Jr. Lecture Series, Keene discussed "Can the Republican Party Survive George W. Bush?," and suggested today's climate is a "pale reflection" of the mood in 1994, when Republicans took control of both the House and Senate.
"By the summer of 1994, they became disgusted with incumbents. And by the late fall of 1994, they became disgusted with Democrats," Keene told the students and faculty members who filled Watson Forum at the Pulliam Center for Contemporary Media's Watson Forum. "At this point, the polling data is very similar (but) not to the degree that it was then. Right now they're disgusted with Washington, and it's moving toward incumbents. It could become Republicans, in which case it is at least possible that the Democrats could re-take the House of Representatives. Not likely,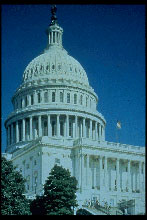 but possible."
As President Bush's polling numbers have plummeted, "almost all of it came from the Republican base," Keene asserts. While Americans are becoming increasingly disillusioned about the war in Iraq,

[Download Audio: "War as an Election Issue" - 220kb] "I don't think the war itself is going to be a voting issue in very many places" come November, Keene believes. "But I do think that the war is going to color the vote and is going to color the public reaction to the rest of the performance of the Bush Administration."
In fact, Keene notes,

[Download Audio: "An Invisible Recovery" - 374kb] "The Bush Administration is coming up to the 2006 elections with a much better economy than most second term presidents have at this stage. And yet, if you ask people they don't think the economy is very good. And, in fact, by all the economic numbers it's very, very good. But there's a pessimism there that I think is in part colored by the uncertainty that stems from the fact that we're involved in a shooting war, and that affects everything else."
The issues that are really gnawing at voters, says the leader of the nation's oldest and largest grassroots conservative organization, are the president's spending policies -- which have created record budget deficits -- and immigration, which Keene calls "the most dangerous issue in the country.

[Download Audio: "Keene on Immigration" - 449kb] "It's dangerous because, just as in Europe some years ago when immigration became a big problem, the establishment parties all dismissed it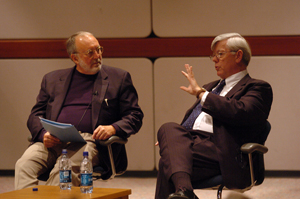 because it was sort of a tacky problem. They didn't want to discuss it; they didn't want to get into it. And the result was a bunch of lunatics got elected," Keene recalls. It is a "political marketplace," the ACU chief says, "and if consumers are demanding a product and you don't either convince them that they need some variation of that product or a different product and none of the producers -- this being the two parties -- offer it, somebody's going to do it."
Keene told moderator Ken Bode, Eugene S. Pulliam Distinguished Visiting Professor of Journalism at DePauw, that he believes politicians in both parties "don't really want to talk about" immigration, which the public sees as a problem that's getting worse. America, he notes, is not based on a specific religion or ethnic group but

[Download Audio: "A Changing Nation" - 811kb] "an idea and about the kind of society people can and should live in. And I think the fear is out there that that's changing; that... the 'melting pot' is gone and it's something else, it's a mosaic of different communities. And people don't like that, they don't feel comfortable about it," he says. "I think that underlies a lot of the feeling about immigration: at one level it's simply that people are not being assimilated, and then it comes to the question of 'Are we taking them in too fast to assimilate them?' Those are really two separate problems, because the difference between
now and 50 years ago or 100 years ago is that there's not an effort to assimilate as there was then, and there isn't the desire to be assimilated that existed then."
For example, Keene notes that many Mexican immigrants choose dual nationality when they come to the United States, keeping ties to their homeland and are sometimes resistant to embracing the ways of their new country.

[Download Audio: "Balkanizing" - 366kb] "When the Amercian public sees that, and most Americans are immigrants -- we're proud of where we came from, we're proud of our heritage -- but we came here to become Americans. And I think a lot of Americans are fearful that the country is balkanizing... you have in Los Angeles housing projects (where there are) racial and ethnic wars going on that make you think you're in Sarajevo rather than in the United States, and I think that scares people."
David Keene has been involved in presidential politics since 1968. He worked in the White House during the Nixon administration as political assistant to Vice President Spiro Agnew and on Capitol Hill as executive assistant to Senator James L. Buckley. As southern regional coordinator for Ronald Reagan in 1976 and national political director for George Bush in 1980, Keene won recognition for his skill as a political organizer and strategist. He also served as a senior political consultant to Republican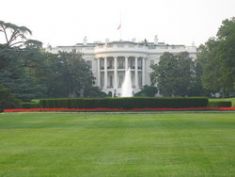 presidential candidate Robert Dole in 1988 and was an informal advisor during the 1996 campaign.
The conservative takes issue with those in his party who view "nation building" as a role of United States foreign policy. Of the controversy over President Bush's secret wiretaps, Keene states,

[Download Audio: "Way Beyond What's Necessary" - 616kb] "The government, in order to -- quote -- protect the people, sometimes forget what it is they're protecting." While the public, in a time of crisis, is "willing to bargain away some of its liberty in exchange for security.... the Bush Administration has been brokering that deal in ways that I think are way beyond what's necessary without the kinds of safeguards that we should have, and (is) forgetting that the job of protector, policeman and all that is just one of the roles that a government in a free society is supposed to fill."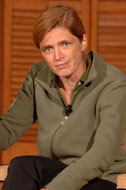 Endowed by Rance Crain, president of Crain Communications and a member of DePauw's Class of 1960, The Gertrude and G.D. Crain Jr. Lecture Series honors Mr. Crain's parents. Previous Crain Lecturers have included: television documentary producer Matilda Bode; Wall Street Journal reporter and 1996 DePauw graduate Aaron Lucchetti, who discussed his experiences covering Hurricane Katrina; award-winning reporter Jerry Mitchell and civil rights activist Rita Bender, the widow of slain civil rights worker Michael Schwerner; Samantha Power, author of A Problem from Hell: America and the Age of Genocide (seen at right); Emily Wax, Africa Bureau Chief of the Washington Post, and her husband, Raymond Thibodeaux, who also covers the region for Cox News, Voice of America and the Boston Globe; Father Richard P. McBrien, Crowley-O'Brien Professor of Theology at the University of Notre Dame and a consultant to ABC News for papal events; political analyst Charlie Cook; FactCheck.org director Brooks Jackson; military sociologist Charles Moskos; historian Douglas Brinkley, author of Tour of Duty: John Kerry and the Vietnam War; and Joe Trippi, who managed Howard Dean's presidential campaign.
Back