Chamber Singers Perform 'Baroque Rites of Spring' in Thursday Evening Concert
April 17, 2006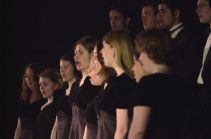 April 17, 2006, Greencastle, Ind. - Director Gabriel Crouch and the DePauw Chamber Singers will present a program entitled "Baroque Rites of Spring" on Thursday, April 20 at 7:30 p.m. in Meharry Hall of historic East College. Celebrating the season's natural joy and symbolism, the program features Bach's Singet Dem Herrn, Lotti's Crucifixus and Allegri's Miserere. The concert is free and open to the public.
"The music for this program celebrates the spring season, in both secular and sacred connotations," says Crouch. "Cheerful madrigals about sunny skies and playful youths are paired with music which reflects on the somber themes of lent."
Among the concert's highlights will be a performance of Gregorio
Allegri's Lenten psalm, Miserere Mei. A masterwork of choral literature, the piece contains one of the most notorious soprano solos of all time, with a sustained top C repeated nearly a dozen times. Its connection to and profound influence on a young Wolfgang Amadeus Mozart also make it a profound programming choice for this year, which marks the 250th anniversary of his birth.
"In Mozart's year, we are including pieces which inspired him at the beginning and end of his life," explains Crouch, director of choral ensembles in the DePauw University School of Music. "As a young boy, Mozart famously heard Allegri's Miserere in church and wrote down the piece perfectly, note-for-note, on his return home."
Johann Sebastian Bach was another of Mozart's favorite composers, reflected to some degree in the increased appearance of contrapuntal writing in Mozart's later works. The performance of Bach's motet, Singet Dem Herrn, not only honors this connection,
but has an intriguing background story.
"Two years before his death," relates Crouch (seen in photo at left), "upon hearing Bach's Singet Dem Herrnin Leipzig, Mozart is said to have leapt to his feet and exclaimed, 'At last! Someone I can learn from...'"
Whether you too are interested in expanding your own musical knowledge, or are just in the mood for an entertaining vocal concert, this event is the perfect way to celebrate the arrival of the spring season.
Visit the DePauw School of Music online by clicking here.
Back