Kudos for Latest Book by Newbery Medal Winner Richard Peck '56, Here Lies the Librarian
April 14, 2006
April 14, 2006, Greencastle, Ind. - "Nobody messes with kids the way Richard Peck does," begins a Washington Post review of the 1956 DePauw University graduate's upcoming book, Here Lies the Librarian. "They think they have him all figured out: He's cool; he's the iconoclast who rips on every form of authority, especially that dreary institution school. And so he does. Few do better. But then he whips the rug out from under their feet by conjuring up teachers -- or, as here, members of that even duller breed, librarians -- fit to melt boys' hearts and kick-start girls' dreams," opines the Post's Elizabeth Ward.
The review continues, "In this hilarious novel set in 1914 rural Indiana, the old-time librarian is killed off, literally -- 'they found her checked out under the card catalog' -- and replaced by not one but four gorgeous, big-city, library science students... But the mean, dried-up, book-hating librarian is just one of the stereotypes upended here," Ward notes. "Few people are what they seem." Read the complete review at the newspaper's Web site.
Here Lies the Librarian is scheduled to arrive in bookstores April 20. School Library Journal calls the book "another gem from Peck," while Booklist asserts, "Peck's one-liners, colorful physical comedy, and country dialect, prominent in most of his recent novels, are great as usual." Learn more at Amazon.com and Barnes & Noble.com.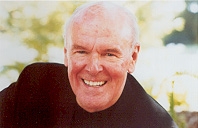 With a degree in English Literature from DePauw, Richard Peck has been called "America's best living author for young adults." He was the 2001 recipient of the Newbery Medal (the top prize for children's literature given by the American Library Association) for his book A Year Down Yonder. Readers of Disney Adventures magazine selected Peck's The Teacher's Funeral: A Comedy in Three Parts as 2004's best historical fiction book for children. In 2002, Peck was awarded the National Humanities Medal, as President Bush remarked, "Richard Peck has written more than 25 novels for younger readers which stress the importance of taking responsibility for one's actions."
Read more in this previous story.
Back